Crispy duck & sesame leafy salad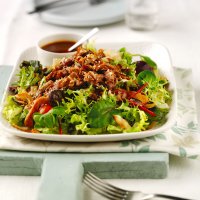 Impress your friends with this simple, but mouth-wateringly delicious dinner party dish
Preparation: 15 mins
Cooking: 30 mins
Serves: 3
What you need:
610g pack half aromatic crispy duck (including 12 pancakes and hoisin sauce sachet)
3 tsp toasted sesame oil ( 2tsp dressing; 1tsp frying)
1 tbsp white wine vinegar
2 tbsp olive oil
180g pack Bistro Salad
1 tsp toasted sesame seeds
What you do:
Preheat the oven to 200oC, gas mark 6.
Cook the duck according to pack directions. Meanwhile, mix the hoisin sauce sachet with 2 tsp sesame oil and vinegar to make the dressing.
Roll 6 pancakes up together and cut into 1cm slices, repeat with the remaining pancakes. Heat the olive oil and remaining sesame oil in a large frying pan and fry the shredded pancakes for 4-5 minutes until golden. Mix into the Bistro salad and toss in 2 tbsp of the dressing.
Shred the duck with 2 forks and mix into the remaining dressing and place on top of the salad, scatter over the sesame seeds and serve immediately.
Cook's tip:
Try using a pack of Baby Leaf Salad instead of the Bistro Salad. Remove the skin of the duck before shredding for a lower fat option.
This page can be found at: http://secretsauce.co.uk/meat-poultry/duck-recipes/crispy-duck-and-sesame-leafy-salad/
A short link can also be used: http://bit.ly/H6wuP2
Salad Days; Make More of Salad

The British Leafy Salad Association (BLSA) is an industry body representing UK salad growers and packers from across the industry. BLSA aims to help educate and inspire people about leafy salads to help increase UK consumption of leafy salads. For more information about BLSA please see www.britishleafysalads.co.uk.
The BLSA is running a three year consumer facing campaign: Salad Days: Make More of Salad in order to highlight the benefits of eating leafy salads and encourage more frequent consumption. This campaign is financed with aid from the European Union.

For more information about leafy salads and for recipes, please visit our new website www.makemoreofsalad.com or contact us on Twitter: @makemoreofsalad.
More from Salad Days; Make More of Salad

Celebrate the Jubilee in style - simple, classic, with a smoky twist, and it's only 291 calories per portion

This is a fresh and super healthy, versatile dish for all occasions

Turn up the heat in your kitchen with this low calorie, spicy salad. Great on its own or as an impressive side dish.
Popular in duck recipes

Lesley says: 'Tenderstem® Broccoli is perfect for stir-frying, it's rich in iron, vitamin C and folic acid. Roasting the duck on a rack with salt will ensure the skin goes really crispy.'

Sophie says: 'Duck pairs very well with fruity sauces and the strawberries paired with red wine really makes for a comforting combination.'