Lesley Waters' Tenderstem gingered crispy duck noodles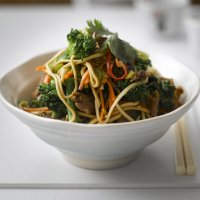 Lesley says: 'Tenderstem® Broccoli is perfect for stir-frying, it's rich in iron, vitamin C and folic acid - shorter cooking time means you lose fewer nutrients. Roasting the duck on a rack with salt will ensure that the skin goes really crispy.'
Serves: 4
Prep: 15 minutes
Cook: 1 hour
What you need:
200g Tenderstem® broccoli, cut into 6cm strips
4 duck legs
225g medium egg noodles
1 tbsp vegetable oil
1 bunch spring onions, chopped
2 large carrots, peeled and cut into very fine strips
1 clove garlic, crushed
1.25cm (1/2") piece ginger, peeled & finely chopped
2 tablespoons soy sauce
1 large orange, juice only
What you do:
Preheat the oven to 210C, 425F, Gas 7.
Using a fork, prick the duck all over and lightly rub over 1tsp salt. Place the duck on a rack over a roasting tin and cook for approx. 1 hour 15 minutes until crisp and cooked. Alternatively, buy Chinese Crispy Duck Legs from the supermarket and follow the pack instructions.
Cook the noodles in boiling water according to the instructions on the packet, then drain, rinse and set to one side.
Using a sharp knife and fork, pull and chop the meat and skin from the duck legs and spread out on a baking tray. Return the shredded duck to the oven to keep warm.
Meanwhile, in a large wok, heat the oil. Add the Tenderstem broccoli, spring onions, carrots and stir fry for 2 minutes until vegetables are just cooked but still crunchy. Add the garlic, ginger, soy sauce and orange juice, toss in the noodles. Heat through and season to taste.
To serve, toss the duck through the noodles and pile into four dishes. Scatter over fresh coriander leaves (optional) and serve straight away.
These delicious Tenderstem broccoli noodles can be served with grilled tuna, griddled chicken or simply on their own with an addition of toasted sesame seeds.
This page can be found at: http://secretsauce.co.uk/meat-poultry/duck-recipes/lesley-waters-tenderstem-crispy-duck-noodles/
A short link can also be used: http://bit.ly/dVMng3
Tenderstem
Tenderstem is a vegetable that's sweet, packed with good things and cooks in moments. And, because it's delicious from stem to tip, nothing needs to be discarded.
More from Tenderstem

Enjoy this delicious spaghetti dish created by Italian chef and owner of Zilli restaurants, Aldo Zilli

Halloumi's salty flavour is the perfect match for sweet cherry tomatoes and smooth Tenderstem broccoli

Smoked salmon with cream, broccoli and spring onions - this tart is great for family meals, or let it cool and have it for lunch the next day!
Popular in duck recipes

Sophie says: 'Duck pairs very well with fruity sauces and the strawberries paired with red wine really makes for a comforting combination.'

Impress your friends with this simple, but mouth-wateringly delicious dinner party dish