Poached egg on buttered spinach & muffin
A winner in British Lion Eggs' Eggs Factor competition, Gary Parson's poached egg on buttered spinach and muffin was chosen by celebrity chef Paul Merret
Preparation: 10 mins
Cook: 5 mins
Serves: 2
What you need:
For the Hollandaise sauce:
100g/4oz unsalted butter
2 large Lion Quality egg yolks
15ml/1 tbsp warm water
a squeeze of lemon juice
salt and freshly ground black pepper
To finish:
4 large Lion Quality eggs
a dash of white wine vinegar
150g/5oz smoked streaky bacon
100g/4oz cockles, drained if in brine
100g/4oz fresh spinach leaves
15g/1/2oz unsalted butter
2 English muffins, toasted
What you do:
First make the hollandaise: melt the butter in a small pan, leave it to cool slightly, then skim off the clarified butter discarding the buttermilk. Place the egg yolk in a medium bowl, placed over a pan of hot water. Whisk the egg yolk and water together with an electric whisk until creamy, remove from the heat, then gradually whisk in the clear butter until the sauce has thickened. Stir in the lemon juice and season to taste. Keep warm.
Heat a frying pan, add the bacon and sauté until golden. Discard the excess fat, then stir in the cockles. Keep Warm.
Melt the butter in another pan, add the spinach leaves, cover and cook for 1-2mins for until the leaves have wilted. Season.
Fill a frying pan with water and bring to the boil. Reduce the heat to a gentle simmer, gently crack in the two eggs and poach for 3mins according to your taste. Remove from the heat.
Place the toasted muffins on two warm plates, top with the spinach. Stir 3 tbsp of the hollandaise sauce into the cockle mix and spoon on top of the spinach. Finally top each with a poached egg. Spoon the hollandaise sauce around the muffins and serve.
This page can be found at: http://secretsauce.co.uk/meat-poultry/breakfast-recipes/poached-egg-on-buttered-spinach-and-muffin/
A short link can also be used: http://bit.ly/i77zuy
British Lion eggs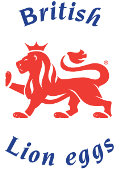 Look for the Lion on eggs to guarantee the highest standards of food safety. All Lion Quality eggs come from British hens vaccinated against salmonella and are date-stamped for freshness.
More from British Lion eggs

Celebrity chef Marcus Wareing's fantastic recipe for baked egg custard tart serves 8, but be prepared for it to only serve 4 because everyone will want a double helping!

Daniel Costello's Spanish baked eggs recipe was chosen by celebrity chef Paul Merrett as a winning recipe in British Lion eggs' Eggs Factor competition

A fantastic recipe for brunch - it looks decadent and you'll soon be wanting it every day!
Popular in breakfast recipes

A delicious baked breakfast in one pot with crusty bread for dipping. Breakfast heaven

Nadia says: 'I love these delicious breakfast scones, they're so versatile. You can make them in advance, which is perfect for when I'm on the go, as I can just grab one as I rush out the door.'

Bored of the same old breakfast? Try this easy to make one which is healthy and will keep you full until lunchtime