Smoky bacon, tomato & egg bake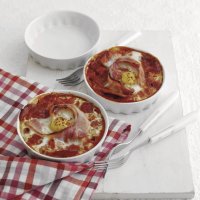 A delicious baked breakfast in one pot with crusty bread for dipping. Breakfast heaven

Cooking: 25 mins
Serves: 4

What you need:

200g (7oz) dry cured oak smoked thick cut back bacon rashers - about 6 rashers
5ml (1tsp) olive oil
1 red onion, finely chopped
1 garlic clove, crushed
15-30ml (1-2tbsp) smoked paprika
400g (approx) can chopped tomatoes
30ml (2tbsp) tomato ketchup
1 red pepper, deseeded and cut into small pieces
4 eggs

What you do:
Preheat oven to Gas Mark 7, 200˚C, 400˚F.
Leave 4 rashers of bacon whole and chop the remaining 2 into large pieces.
In a large pan heat the oil and add the chopped bacon, onion and garlic. Cook for 2-3 minutes until the onion begins to soften. Add the remaining ingredients and bring to the boil and simmer for 5-10 minutes.
Pour the mixture into four individual shallow gratin dishes or one large dish. Take the whole rashers of bacon and curl into a rough circle and place on top of the mixture. Make a slight indent in the mixture, crack eggs and place in the centre of each individual dish or evenly on the top of one large dish. Place in oven and bake for about 20 minutes until the eggs have set.
Serve with chunks of crusty bread for dipping.
This page can be found at: http://secretsauce.co.uk/meat-poultry/breakfast-recipes/smoky-bacon-tomato-and-egg-bake/
A short link can also be used: http://bit.ly/ZFt2UE
Bacon Connoisseurs Week
Bacon Connoisseurs Week is set to revolutionise the nation's love affair with bacon. This special week celebrates all the fabulous cuts and cures of bacon and is a firm favourite in the foodie calendar. Running from 18 – 24 March 2013, Bacon Connoisseurs Week aims to revolutionise old attitudes, thoughts and usage of bacon.
Think you know your bacon? Think again! With literally hundreds of different cures in Britain, it is safe to say not all bacon is the same - with smoked, unsmoked, Maple cured, Wiltshire cured, hocks, steaks, joints and rashers to explore – the list is endless! Of course it's not just for breakfast either – enticing recipes for snacks, lunches and dinner prove that bacon can be enjoyed at anytime throughout the day.
More from Bacon Connoisseurs Week

Ever seen bacon in a curry? See if this recipe converts you!

A no-bake lasagne? How does that work? Find out with this ingenious recipe. Serves 3-4

A loaf? With bacon in it? A bacon buttie like you've never seen it before. Makes about 12-14 loaves
Popular in breakfast recipes

Bored of the same old breakfast? Try this easy to make one which is healthy and will keep you full until lunchtime

Nadia says: 'I love these delicious breakfast scones, they're so versatile. You can make them in advance, which is perfect for when I'm on the go, as I can just grab one as I rush out the door.'

A tasty brunch recipe the whole family can enjoy