The breakfast stack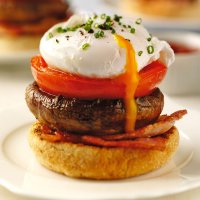 For a weekend treat, without the calories, try this tasty and healthy hot breakfast option - easy to make and even easier to enjoy!
Preparation: 5 mins
Cooking: 20 mins
Serves: 4
What you need:
4 large Portobello mushrooms
2 beef tomatoes
4 medium eggs
4 slices unsmoked back bacon
2 wholemeal English-style muffins, halved
1 tbsp chopped chives
What you do:
Remove the stalks from the mushrooms and place in a grill pan. Slice the ends off the tomatoes and cut in half to create 2 circle shapes and place in the grill pan with the mushrooms. Place under a preheated grill for 5 minutes each side. Set aside and keep warm.
Meanwhile, poach the eggs for 2-3 minutes (one at a time if easier).
Place the bacon in the grill pan and grill for 5-6 minutes, turning once until golden and towards the end of cooking toast the muffins.
Stack the bacon on top of the muffins then top with the mushrooms, tomatoes and then egg. Scatter with the chives and season with black pepper.
Cook's tip:
To poach eggs, bring a wide, shallow pan of water to just simmering. Using the handle of a slotted spoon, swirl the simmering water to create a whirlpool or vortex then crack the eggs, one or two at a time, directly into the centre of the whirlpool.
As the eggs cook, use the spoon to keep the water moving and ensure the egg whites wrap around the yolks (do this carefully so as not to break the eggs).
After 1-2 minutes, or when the egg white is cooked, remove them from the pan using the slotted spoon and set aside to drain on kitchen paper. For a firm yolk cook for a further minute or so.
For a vegetarian option simply remove the bacon.
This page can be found at: http://secretsauce.co.uk/meat-poultry/breakfast-recipes/the-breakfast-stack/
A short link can also be used: http://bit.ly/10u7Yo0
Farmhouse Breakfast Week 2013
Half of people (51%) in the UK eat the same thing for breakfast every day, yet there's a huge variety of tasty, speedy options to suit everyone. In celebration of Farmhouse Breakfast Week (20 – 26 January 2013) we've developed a selection of new recipes, from on the go, quick and healthy breakfasts to more indulgent delicious weekend treats.

TV cookery expert Nadia Sawalha is supporting Farmhouse Breakfast Week and shares one of her favourite breakfast recipes. There are plenty more recipes online at www.shakeupyourwakeup.com, so why not Shake Up Your Wake Up and try something new for your morning meal?

If you prefer not to eat much first thing, try this super quick low-fat breakfast drink to give you an energy boost to start the day.

Nadia says: 'I love these delicious breakfast scones, they're so versatile. You can make them in advance, which is perfect for when I'm on the go, as I can just grab one as I rush out the door.'

This is an easy and luxurious breakfast option which can be made ahead and kept in an airtight container for up to two weeks.

A delicious baked breakfast in one pot with crusty bread for dipping. Breakfast heaven

Bored of the same old breakfast? Try this easy to make one which is healthy and will keep you full until lunchtime

Nadia says: 'I love these delicious breakfast scones, they're so versatile. You can make them in advance, which is perfect for when I'm on the go, as I can just grab one as I rush out the door.'