Baked breakfast
As good as, if not tastier than, a traditional fry-up, but as it's baked it's a lot healthier!
Prep: 5 mins
Cooking: 25-28 mins
Serves: 4
317 calories per portion
What you need:
4 sausages
4 rashers back bacon
2 tomatoes, halved
8 open mushrooms
8 large Lion Quality eggs
What you do:
Preheat the oven to 200C Fan 180C Gas Mark 6. Lightly oil 4 individual dishes about 20cm/8in diameter. Place a sausage in each and bake for 10 mins.
Shake the sausages then add the bacon, tomato and mushrooms. Bake for a further 10 mins.
Remove the dishes from the oven and shuffle around the ingredients to make room for the eggs. Carefully crack the eggs and add to the dishes.

Return the dishes to the oven and cover the tops with a baking tray or foil - this stops the eggs wrinkling. Bake for 6-8 mins or until the eggs are cooked to your liking. Serve with toast.
This page can be found at: http://secretsauce.co.uk/meat-poultry/breakfast-recipes/baked-breakfast/
A short link can also be used: http://bit.ly/fZ3uVu
British Lion eggs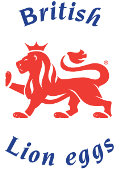 Look for the Lion on eggs to guarantee the highest standards of food safety. All Lion Quality eggs come from British hens vaccinated against salmonella and are date-stamped for freshness.
More from British Lion eggs

Celebrity chef Marcus Wareing's fantastic recipe for baked egg custard tart serves 8, but be prepared for it to only serve 4 because everyone will want a double helping!

Daniel Costello's Spanish baked eggs recipe was chosen by celebrity chef Paul Merrett as a winning recipe in British Lion eggs' Eggs Factor competition

A fantastic recipe for brunch - it looks decadent and you'll soon be wanting it every day!
Popular in breakfast recipes

A delicious baked breakfast in one pot with crusty bread for dipping. Breakfast heaven

Nadia says: 'I love these delicious breakfast scones, they're so versatile. You can make them in advance, which is perfect for when I'm on the go, as I can just grab one as I rush out the door.'

Bored of the same old breakfast? Try this easy to make one which is healthy and will keep you full until lunchtime