Roasted peppers with chilli filling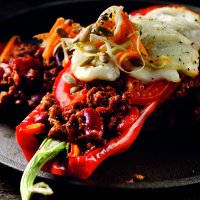 This easy-to-make tasty meal is really healthy - helping you towards your 5-a-day. Make it with beef mince, or choose Quorn mince if you're vegetarian.
Serves: 4
Cals per serving: 361 or 305 with Quorn
Fat per serving: 17.69g or 13.59g with Quorn
What you need:
350g lean minced beef or Quorn mince
1 x 500g jar Uncle Ben's Mild or Medium Chilli con Carne
4 long red peppers, halved and deseeded
2 tomatoes, sliced
100g halloumi cheese, sliced
1 large carrot, grated
100g white cabbage, finely shredded
15g toasted pumpkin seeds
15g toasted sunflower seeds
1 tbsp lemon juice or cider vinegar
Salt and freshly ground black pepper
What you do:
Heat a large frying pan and add the minced beef or Quorn mince, a handful at a time, cooking it until seared and browned. Tip in the jar of Uncle Ben's Chilli con Carne, stir well, then reduce the heat and simmer for 20-25 minutes.
Meanwhile, preheat the oven to 190°C, fan oven 170°C, gas mark 5. Arrange the pepper halves, cut side up, in a large baking dish. Bake for 5 minutes, then spoon in the cooked chilli filling. Top with sliced tomatoes and the halloumi cheese. Return to the oven and bake for 15-20 minutes.
Whilst the peppers are baking, make the salad by mixing together the carrot, cabbage, toasted seeds and lemon juice or vinegar. Season with salt and pepper.
Serve the peppers, accompanied by the carrot and cabbage salad.
This page can be found at: http://secretsauce.co.uk/meat-poultry/beef-recipes/stuffed-peppers-chilli-beef-filling/
A short link can also be used: http://bit.ly/fFRnUr
Uncle Ben's

Uncle Ben's chefs have spent years developing a range of products that bring the flavours of the world to mealtimes. The range includes perfect rice, every time, the subtle flavours of the Orient, a Mexican Fiesta, a taste of Indian and a fantastic Thai range.
More from Uncle Ben's

A family favourite, learn how to cook it up in minutes!

Make a tasty treat for Bonfire Night (and beyond!) with this easy solution for a fun family supper.

Why not start the school year with some new, quick and healthy family recipes, like this one?
Popular in beef recipes

Beef stew is the best winter warmer, slow cooked for two hours to make sure the beef is tender and has absorbed all the delicious flavours

Tender beef with the spice of chilli and the sweetness from sweet potato creates an exciting stew-type dish bursting with flavour.

A delicious, quirky new twist on a homemade favourite!