Rare rump steak with radish, chilli & roasted peanut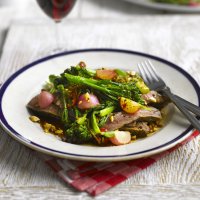 This beautiful and nutritious dish is inspired by the flavours of Asian cooking. Slice the steaks at a jaunty angle just before plating up and you will have a stunningly presented but (secretly) very simple to prepare dish to present to your guests or family. The recipe calls for Choy Sum greens. This literally means 'vegetable heart' in Cantonese and can be applied to the 'heart' or flowering stem of almost any vegetable including non-traditionally East Asian greens such as broccoli.
Preparation: 10 mins
Cooking: 10 mins
Serves: 4
What you need:
4 6oz rump steaks
Salt and pepper
1 tbsp olive oil
1 tbsp olive oil
2 cloves garlic sliced
1 red chilli sliced
1 knob of ginger cut into matchsticks
1 tbsp light soy sauce
1 tbsp balsamic vinegar
1 tbsp sesame oil
100g radishes cut into quarters
200g Tenderstem broccoli trimmed
200g Choy sum trimmed
50g roasted peanuts crushed
What you do:
Heat a large frying pan and while you are waiting for the pan to heat, season the steaks with salt and pepper.
Once the pan is hot, add 1 tablespoon of the olive oil and cook the steaks for 2 minutes on each side, or for a little longer if you like your steak more well done, when cooked remove from the pan and keep in a warm place.
In the same pan, add another tablespoon of olive oil and fry the garlic for 1 minute or until lightly toasted, now add the chilli and cook for a further 30 seconds, before adding the ginger, soy, balsamic vinegar and sesame oil.
Once the dressing comes up to the boil, add the radishes and tenderstem and cook for one minute.
Add the Choy sum and cook for a further minute, before removing from the heat.
Slice the steaks and divide between 4 warm plates, top with the radish, tenderstem and Asian greens dressing, sprinkle with peanuts and serve at once.
This page can be found at: http://secretsauce.co.uk/meat-poultry/steak-recipes/rare-rump-steak-with-radish-chilli-and-peanuts/
A short link can also be used: http://bit.ly/PO74M5
Love Radishes

Often thought of as just 'a bite on the side', the humble radish, with its crisp, crunchy texture and distinctive peppery bite, is a deliciously versatile snack or ingredient, perfect for adding a subtle kick to salads, sandwiches, stir fries and more.
More from Love Radishes

A delicious, healthy and quick snack or light lunch bursting with subtle flavours and brimming with colour!

A delicious Bloody Mary recipe complete with retro celery sticks and the requisite balance of fresh and bold flavours.

A tasty spring salad with a kick thanks to the ruby red radishes
Popular in steak recipes

A juicy, tender steak with a traditional peppercorn sauce and an added chilli kick, ready in just 10 minutes

To celebrate its 35th birthday this year, Beefeater has released four exclusive and, until now, secret recipes using four of their most popular sauces so you can recreate the ultimate steak eating experience at home

To celebrate its 35th birthday, Beefeater has released four exclusive and, until now, secret recipes using four of their most popular sauces so you can recreate the ultimate steak eating experience at home