Hoi Sin & sesame beef stir-fry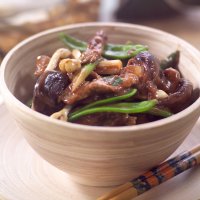 Crunchy vegetables with tender beefsteak is a winning combination with an added kick from the hoi sin and sesame flavours
Preparation time: 15 minutes
Cooking time: 10 minutes
Serves: 2
What you need:
200g Lean beefsteak cut into fine strips
200g Blue Dragon Hoi Sin & Sesame Stir Fry Sauce
2 Disks of Blue Dragon Medium Whole Wheat Egg Noodles Cooked and refreshed
1/2 x red onion sliced
100g Mange tout
80g thinly sliced carrots
1 x red pepper sliced
100g Bean sprouts
1 tsp Vegetable oil
What you do:
Heat the oil in a wok or a pan, add the beef and onions and stir fry for 3 - 4 min or until the onions start to soften
Add the carrot, pepper and mange tout and stir fry for 4 mins
Pour in Blue Dragon Hoi Sin & Sesame Stir Fry Sauce and add the bean sprout and Blue Dragon Medium Whole Wheat Egg Noodles
Heat through and serve immediately
This page can be found at: http://secretsauce.co.uk/meat-poultry/beef-recipes/hoi-sin-sesame-beef-stir-fry/
A short link can also be used: http://bit.ly/h2nxbX
Blue Dragon

Blue Dragon was created over 30 years ago to help British people create authentic Chinese dishes at home. Since then it's gone truly pan-Asian, with ingredients to help create delicious dishes from Thailand, Japan and Vietnam and expanding the Chinese range.
More from Blue Dragon

Cocktail sausages cooked in honey are popular finger food, but wait until you've tried these sweet chilli versions

Isn't curry Indian? Not in this recipe - it's Chinese and delicious with egg fried rice

A delicious and unusual recipe, this sticky plum and duck stir-fry is amazing served with beetroot crisps and pistachios
Popular in beef recipes

Beef stew is the best winter warmer, slow cooked for two hours to make sure the beef is tender and has absorbed all the delicious flavours

This easy-to-make tasty meal is really healthy - helping you towards your 5-a-day. Make it with beef mince, or choose Quorn mince if you're vegetarian.

Tender beef with the spice of chilli and the sweetness from sweet potato creates an exciting stew-type dish bursting with flavour.