Bolognese boats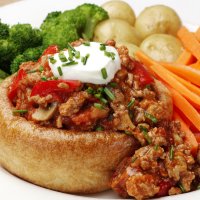 A delicious, quirky new twist on a homemade favourite!
What you need:
Aunt Bessie's Giant Yorkshire Puddings
200g of beef mince
Bolognese sauce
Onions, sliced
Cheddar cheese, grated
What you do:
Fry the onions in a saucepan with a little oil until golden
Add the beef mince to the onions and fry until brown
Turn down the heat, add the Bolognese sauce to the mince and simmer until the mince is heated throughout
Heat the Yorkshire Puddings in the oven as per on-pack instructions
Spoon the Bolognese mixture into the well of each Yorkshire Pudding and top with a handful of grated cheddar cheese
This page can be found at: http://secretsauce.co.uk/meat-poultry/beef-recipes/bolognese-boats/
A short link can also be used: http://bit.ly/g77Ket
Aunt Bessie's

Aunt Bessie's is probably most famous for its delicious Yorkshire puddings but is always looking at new ways of making meal times even better. It has now created a whole range of delicious dishes that taste as good as homemade.
More from Aunt Bessie's

Yorkshire pudding filled with winter warming cottage pie

Indulgent, chocolatey pancakes, perfect served with a big scoop of dairy ice cream

Delicious roast beef canapes, perfect for the buffet table
Popular in beef recipes

Beef stew is the best winter warmer, slow cooked for two hours to make sure the beef is tender and has absorbed all the delicious flavours

This easy-to-make tasty meal is really healthy - helping you towards your 5-a-day. Make it with beef mince, or choose Quorn mince if you're vegetarian.

Tender beef with the spice of chilli and the sweetness from sweet potato creates an exciting stew-type dish bursting with flavour.