Chicken fricassee with apples in a wine & tarragon sauce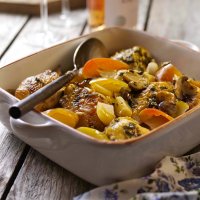 This lovely classic French dish is halfway between a saute and a stew; Pink Lady apples and the wine, herbs and mushrooms of the Maine-et-Loire region create a warming supper for everyday eating or entertaining even on the other side of the channel.
Preparation: 20 mins
Cooking: 45 mins
Serves: 4
What you need:
1 whole chicken (preferably free range) jointed or 8 chicken joints, i.e., thighs/drumsticks
1 tbsp olive oil
20g butter
2 cloves garlic, peeled and crushed
4 shallots, peeled and halved
100g chestnut mushrooms, halved
4 tbsp red wine vinegar
150ml Rose d'Anjou or any French dry white wine
1 tomato, finely chopped
1 Pink Lady apple, halved, cored and cut into slices
2 tbsp flat leaf parsley, finely chopped
4 tbsp creme fraiche (optional)
1-2 tbsp tarragon, plus extra for garnish, finely chopped
What you do:
Pre heat oven 180C˚/160C˚ fan/Gas 4.
Heat the olive oil in a large frying pan, cook the chicken pieces over a high heat until golden brown, turning at regular intervals, approximately 5-7 minutes. Remove the chicken from the frying pan and place it in an ovenproof casserole dish. Discard all but 1 tablespoon of the fat from the frying pan.
Add the butter, garlic, shallots and mushrooms to the frying pan and allow to cook for a few minutes, stirring. Remove the contents and add to the casserole dish with the chicken.
Pour the vinegar into the frying pan and simmer for a few seconds then add the wine and bring to the boil for a couple of minutes, reduce the heat and add the tomato, Pink Lady apple and herbs and season to taste. Pour the mixture over the chicken in the casserole, cover with a lid and cook for 35-40 minutes until the chicken is juicy, tender and piping hot.
Stir in the creme fraiche, if using, and sprinkle with the extra tarragon.
Serve with saute potatoes and Tenderstem broccoli or a rocket salad.
This page can be found at: http://secretsauce.co.uk/meat-poultry/chicken-recipes/chicken-fricassee-with-apples-in-wine-and-tarragon/
A short link can also be used: http://bit.ly/1j2DQrt
Skandi Candle
Pure soy wax candles in Flack Fig & Vetiver or Lemon fragrances - perfect for any dinner party or romantic night in.
Pink Lady apples

Pink Lady apples have a distinctive crisp texture and fizzy flavour – similar to champagne. It takes 200 days of tender care and, once ripe, each apple undergoes a rigorous quality control process to ensure that the high standard is kept – only the best apples can become a Pink Lady apple. Pink Lady apples are perfect culinary apples as they retain their texture and unique flavour and little, if any, additional sugar needs to be added.
More from Pink Lady apples

Flapjacks are great for desserts, snacks and even lunchboxes, so make up a tray and watch them disappear!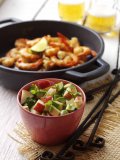 Even when the sun doesn't always shine this tasty, zingy very easy to make Australian recipe will make it seem like it does.

This wonderfully decadent dessert is perfect to serve at a large family gathering.
Popular in chicken recipes

For a quick and easy evening meal, chicken, leek and Cheddar bake, with melt in the mouth cheese, will be a firm family favourite that takes just 10 minutes to prepare

While you're getting this together, why not double up on the ingredients and freeze a lovely chicken and leek pie for another time?

Easy to prepare, these chicken dippers are perfect handed round at parties!