Alex Mackay's mid-week jerk roast chicken & spicy chips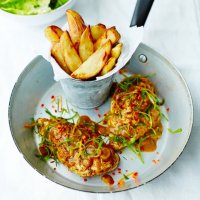 Alex says: 'This is simply yummy, as spicy as you fancy with the King Edwards catching a lovely lick of the chicken's roasting juices as they get to know each other in the oven.'
What you need:
4 skinless chicken breasts
2 tsp jerk spice
700g of fluffy King Edward potatoes, washed and cut into 20-24 chunky chips
1 tbsp vegetable oil, plus a little for brushing the chicken
1 bunch spring onions, thinly sliced, keep the pale and dark parts separate
4 tbsp water
200ml orange juice, from a carton is fine
4 tbsp HP sauce
Zest of 1 orange removed with a zester
1 large mild red chilli, de-seeded and finely diced
15g butter
Salt, sugar and jerk spice
What you do:
Pre-heat your oven to 230C/Gas 8 /Position top shelf / You'll need a big tray for this.
Toss the 'chips' with the vegetable oil. Put them at the front of the tray. Roast for 15 minutes.
Brush the chicken breasts with a little vegetable oil. Rub each chicken breast with a pinch of salt and 1/4 tsp jerk spice, more if you like it hot. Put the chicken breasts onto the back of the tray. Roast for 10 minutes more. Baste both chicken and King Edwards with the cooking fat. Turn the King Edwards. Sprinkle them with 1tsp jerk spice. Roast for 5 minutes more until golden.
While the chicken and King Edwards roast, make the spring onion gravy. Get a large (26cm-30cm) frying pan. Add the pale section of the sliced spring onions, 1 tsp jerk spice and 4 tbsp water. Sweat over a medium heat for 3-4 minutes until the spring onions soften. Add the orange juice. Boil to reduce by half. Add the HP sauce and 3 tablespoons water. Bring to the boil, it should be thick enough to lightly coat the back of a spoon, if not boil it for a little longer. Stir in the butter, season to taste, you may need a little sugar to balance the acidity. Take the pan off the heat.
Once the chicken breasts are cooked, transfer them to the sauce to rest for 5 minutes. Put the potatoes back into the oven during this time if they need a little more cooking.
Heat up the sauce and chicken breasts. Brush the chicken with some the sauce. Mix the dark green sliced spring onion, orange zest and chilli together. Sprinkle them over the chicken and King Edwards.
Cook's tip:
The chicken breasts and sauce freeze very well so feel free to make double and freeze half.
The gravy can be made up to a day ahead.
This page can be found at: http://secretsauce.co.uk/meat-poultry/chicken-recipes/alex-mackays-midweek-jerk-roast-chicken/
A short link can also be used: http://bit.ly/1qCuZ4W
Skandi Candle
Pure soy wax candles in Flack Fig & Vetiver or Lemon fragrances - perfect for any dinner party or romantic night in.
Potato Council
British potatoes
are the ultimate taste sensation that have stood the test of time. They're great value for money, quick and easy to cook and provide a wealth of essential nutrients.
More from Potato Council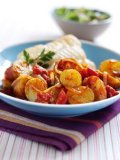 A delicious side dish to serve with any curry or Indian meal

Alex says: 'This is the good King Edward's twist on the Greek filo pastry pie, Spanakopita.'

Alex says: This makes a great meal for kids, the asparagus spears are fantastic finger food for them to pop their eggs with.'
Popular in chicken recipes

For a quick and easy evening meal, chicken, leek and Cheddar bake, with melt in the mouth cheese, will be a firm family favourite that takes just 10 minutes to prepare

While you're getting this together, why not double up on the ingredients and freeze a lovely chicken and leek pie for another time?

Easy to prepare, these chicken dippers are perfect handed round at parties!