Chicken & bacon salad with juniperberry beetroot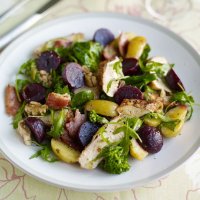 The aromatic taste of juniperberry & black pepper-infused beetroot is wonderful tossed through this salad which makes for a substantial lunch or light supper.
Preparation: 10 mins
Cooking: 20 mins
Serves: 4
What you need:
For the dressing
Juice & zest of a small orange
1 tsp dijon mustard
1 tbsp sherry vinegar
5 tbsp extra virgin olive oil
A pinch of soft brown sugar, to taste
Salt & freshly ground black pepper
75g walnuts, roughly chopped
For the salad:
500g new potatoes, thickly sliced
300g Tenderstem, cut into 3-4cm pieces
2 large chicken breasts, skinless & boneless
1 tbsp olive oil
8 slices smoked streaky bacon
2 x 200g Juniperberry & Black Pepper beetroot, cut into wedges
80g bag baby salad leaves
80g bag rocket
What you do:
First, make the dressing by whisking together the orange juice and zest with the mustard and sherry vinegar in a large mixing bowl (big enough to toss the salad in). Drizzle in the olive oil, whisking all the time, until the dressing has emulsified. Season to taste with brown sugar, salt and pepper then stir through the walnuts and set aside for the flavours to develop.
Bring a large pan of lightly salted water to the boil and add the potatoes. Cook for 10-15 minutes until tender when pierced with the tip of a knife. When the potatoes are nearly ready, add the Tenderstem and cook for a further 2 minutes. Drain well and add to the dressing in the bowl whilst still hot, tossing to mix.
Meanwhile, heat the oil in a frying pan until hot. Flatten the chicken breasts a little and season with a little salt and pepper, then fry for about 4-5 minutes on each side until cooked through. Remove, set aside to cool a little then slice on the diagonal. Add the bacon to the frying pan and fry until crisp. Roughly chop. Add the chicken and bacon to the bowl and toss together.
Finally, add the beetroot and leaves and lightly toss to mix before serving immediately.
Cook's tip:
Juniperberry and black pepper beetroot can be purchased from Sainsbury's, or choose a different flavour from the infused beetroot ready-to-eat range, which includes Spicy Sweet and Fiery Beetroot (Tesco Finest), Sweet Chilli Rosebud Beetroot (M&S), Red Wine Vinegar & Orange Blossom Honey Beetroot (M&S), Sweetfire Beetroot Wedges (Waitrose), Juniper & Black Pepper in Red Wine Vinegar Baby Beetroot (Morrisons), Lime Zest Baby Beetroot (Waitrose) , Juniperberry & Black Pepper Cocktail, Beetroot (Sainsbury's Taste the Difference), Sweetflame Beetroot (Sainsbury's Taste the Difference), Honey & Ginger Baby Beetroot (Asda)
This page can be found at: http://secretsauce.co.uk/meat-poultry/chicken-recipes/chicken-and-bacon-salad-with-juniperberry-beetroot/
A short link can also be used: http://bit.ly/1lImXSL
Skandi Candle
Pure soy wax candles in Flack Fig & Vetiver or Lemon fragrances - perfect for any dinner party or romantic night in.
lovebeetroot

Beetroot is enjoying something of a revival as people discover there's more to this great British vegetable than they thought. You can now buy beetroot in so many different ways – raw, cooked, marinated, lightly pickled - there's so much to beetroot than the jar of pickled beetroot many of us will remember from our childhood.
More from lovebeetroot

A delicious, healthy smoothie with a ginger kick

The infused beetroot in this dish makes for a lively and flavour-packed lunch. The sweet potato will keep you going right through the afternoon.

Simple to make, these delightful infused beetroot canapés make entertaining so easy, but pack a punch with their taste combinations.
Popular in chicken recipes

For a quick and easy evening meal, chicken, leek and Cheddar bake, with melt in the mouth cheese, will be a firm family favourite that takes just 10 minutes to prepare

While you're getting this together, why not double up on the ingredients and freeze a lovely chicken and leek pie for another time?

Easy to prepare, these chicken dippers are perfect handed round at parties!