Barbecued herring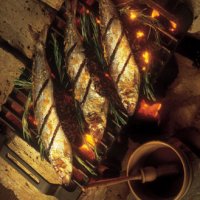 If you're having a barbecue and are looking for something new and exciting to cook, this herring dish is well worth a try
Serves: 8
Nutritional values per portion (approx):
585 kilocalories
34g protein
34g fat
40g carbohydrate
2g fibre
What you need:
8 herring, cleaned
30g (1oz) butter or margarine
2 small onion, finely chopped
900g (2lb) fresh rhubarb sticks
300g (10 and a half oz) long grain rice, cooked
grated rind and juice of 2 oranges
sprigs of fresh rosemary
salt and black pepper
sunflower oil
300ml (10fl oz) water
2 x 15ml spoon (2 tablespoons) brown sugar (optional)
What you do:
Preheat the barbecue
Melt the butter in a saucepan and cook the onion until transparent.
Chop 2 sticks rhubarb into small pieces and add to the onion with the cooked rice, orange rind, and a little chopped rosemary. Season to taste.
Divide the stuffing between the herring. Make 3 cuts across the flesh and brush with oil.
Lay the sprigs of rosemary across the barbecue and cook the fish on top for about 8-10 minutes, turning once. (Alternatively use a fish clamp or foil).
Meanwhile, slice the remaining rhubarb and cook with the water and orange juice until soft.
Sweeten if necessary and serve with the barbecued herring.
Handy tip:
A large tin of drained rhubarb may be used if fresh is unavailable.
This page can be found at: http://secretsauce.co.uk/fish-seafood/herring-recipes/barbecued-herring/
A short link can also be used: http://bit.ly/fusfbf
Skandi Candle
Pure soy wax candles in Flack Fig & Vetiver or Lemon fragrances - perfect for any dinner party or romantic night in.
Seafish
From sea to plate, Seafish delivers expert knowledge, skills and support which help the UK seafood industry secure a sustainable and profitable future. To request a free 'Fish for Thought' guide with tips on buying, storing and cooking fish for the family, email info@efamol.com
More from Seafish

Prawn or lobster, a bisque is always a delicious treat. Creamy, fishy, and warming, just make sure you've got some fresh crusty bread ready to serve

Ready in just 20 minutes, the flavours of this fish are beautifully enhanced with the fennel and coriander

Feed the family healthy fish South American style with this great mackerel dish
Popular in herring recipes

Ready in just 20 minutes, the flavours of this fish are beautifully enhanced with the fennel and coriander

You could swap the herring for mackerel or sardines in this recipe, depending on what you've got handy and it couldn't be easier to make

Herring in a fruity marinade is a great alternative to burgers when you're having a barbecue and better for you too!