Prawn bisque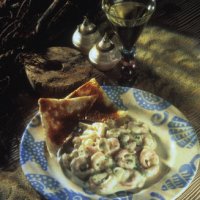 Prawn or lobster, a bisque is always a delicious treat. Creamy, fishy, and warming, just make sure you've got some fresh crusty bread ready to serve
Serves: 4-6
NUTRITIONAL VALUES PER PORTION (APPROX)
329-219 Kilocalories
40-26g Protein
13-9g Fat
6-4g Carbohydrate
0g Fibre
What you need:
680g (1lb 8oz) small, cooked and peeled warm water prawns
15g (half an oz) butter or margarine
1 small onion, chopped
1 clove garlic, crushed
1 stick celery, chopped
150ml (5 fl oz) dry white wine
600ml (1 pint) fish or chicken stock
1 x 5ml spoon (1 teaspoon) tomato purée
1 bouquet garni
1 bay leaf
salt and black pepper
150ml (5 fl oz) single cream
2 x 15ml spoon (2 tablespoons) brandy
whole prawns, paprika and chopped chives, to garnish
What you do:
Melt the butter in a large pan. Cook onion, garlic and celery until soft.
Add wine, stock tomato purée, bouquet garni, bay leaf and seasoning.
Simmer for 5-10 minutes to allow herbs to infuse.
Stir in the prawns, simmer for a further 3-5 minutes.
Remove bouquet garni and bay leaf. Liquidise, return to the heat simmer gently without boiling until piping hot and add the cream and the brandy.
Garnish with whole prawns, paprika and chopped chives.
This page can be found at: http://secretsauce.co.uk/fish-seafood/prawn-recipes/prawn-bisque/
A short link can also be used: http://bit.ly/ed40dQ
Seafish
From sea to plate, Seafish delivers expert knowledge, skills and support which help the UK seafood industry secure a sustainable and profitable future. To request a free 'Fish for Thought' guide with tips on buying, storing and cooking fish for the family, email info@efamol.com
More from Seafish

If you're having a barbecue and are looking for something new and exciting to cook, this herring dish is well worth a try

Feed the family healthy fish South American style with this great mackerel dish

Ready in just 20 minutes, the flavours of this fish are beautifully enhanced with the fennel and coriander
Popular in prawn recipes

Tender prawns are great in stir-fries, the cashew nuts give this dish an added crunch and the shiitake mushrooms are tender and full of flavour

Forget the Eighties classic in a cocktail glass, this version is right up to date and includes smoked salmon!

A delicious sandwich enhanced by homemade seafood sauce