Salmon with dill sauce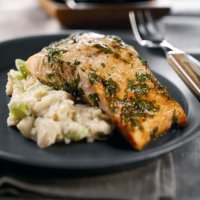 This salmon & dill dish with butter bean mash is light, full of flavour but it's also low in fat so you don't have to worry about your waistline!
Preparation time: 10 minutes
Serves: 2
Nutritional values
Energy kcals 602
Protein g 49
Soya protein g 4.6
Total Fat g 32
polyunsaturated fat g 10.6
monounsaturated fat g 19.8
saturated fat g 5.6
Carbohydrate g 32
Sugar g 6.6
Fibre g 11.2
Calcium mg 178
Sodium mg 1062*
What you need:
2 x 125g salmon fillets
1 tbsp olive oil
1 tbsp balsamic vinegar
juice of half lemon
Handful of chopped parsley
Salt and pepper
For the dill sauce:
100ml Alpro soya Dairy Free Alternative to Organic Plain Yogurt
2 tbsp low fat mayonnaise
5cm cucumber, finely chopped
4 tbsp fresh dill, chopped
Salt and pepper, to taste
For the mash:
420g can butter beans, drained and rinsed
6 tbsp Alpro soya Dairy Free Alternative to Milk
4 spring onions, finely chopped
What you do:
Pre-heat oven to 19O C/375 F /Gas Mark 5.
Combine all ingredients for the dill sauce in a food processor. Process until blended. Pour into bowl and refrigerate for 1-2 hours before serving.
Mix 1 tbsp oil, balsamic vinegar, lemon juice and the parsley. Place the salmon, skin side up, in a shallow oven proof dish, season and pour over the marinade. Allow to marinade for at least 10 minutes.
Cook the salmon in oven for 8 - 10 minutes. The salmon is cooked when the flesh becomes opaque or when it flakes easily with a fork.
Place the butter beans and 150ml cold water in a pan. Bring to the boil and simmer for 5 minutes. Pour into a food processor, season and whiz until fairly smooth, or mash with a potato masher. Return to the pan; add the milk and spring onions and mix thoroughly.
Serve the salmon and a bed of butterbean mash and a spoonful of sauce.
This page can be found at: http://secretsauce.co.uk/fish-seafood/salmon-recipes/salmon-dill/
A short link can also be used: http://bit.ly/g3RjYf
Alpro Soya

Alpro Soya creates delicious products for you to enjoy any time of the day. Made from the goodness of the whole soya bean, they are prepared with care and with the utmost respect for people and planet.
More from Alpro Soya

Don't just boil those potatoes - make them a dish in itself with this delicious traditional recipe

Looking for a vegetarian alternative for Christmas dinner? Try this traditional and delicious nut roast

Start the day with this substantial breakfast that will give you enough energy to last until lunchtime
Popular in salmon recipes

Lemon perfectly complements salmon so you might just have found your perfect tart recipe!

A fantastic flavour pairing by top London chef Theodore Kyriakou who says: 'I like eating the salmon pink in the middle with some rice pilaf.'

You need just three main ingredients for this easy family dish - salmon, pastry and onions