Oriental salmon stir-fry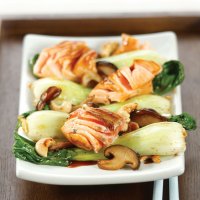 This Oriental salmon stir-fry is a quick and easy meal perfect for after work and healthy too!
Serves: 2
Prep time: 10 minutes
Cooking time: 10 minutes
What you need:
4 tbsp groundnut oil
350g skinless salmon fillet, cut into strips
8 shiitake mushrooms
1 garlic clove, crushed
1 Blue Dragon Oyster & Spring Onion Stir Fry Sauce
125g bok choy/ pak choi, roughly chopped
50g spinach leaves, washed and prepared
1/2 tsp Blue Dragon Thai Fish Sauce
1/2 tsp Blue Dragon Light Soy Sauce
1 tbsp sesame seeds, toasted
Cooked rice to accompany
What you do:
Heat half of the oil in a wok or frying pan over a high heat. Stir-fry the fish in batches for 30 seconds on each side, or until lightly coloured. Use a fish slice to gently remove the fish from the pan and set aside on a warm plate.
Heat the remaining oil and stir-fry the sliced mushrooms and garlic for 1-2 minutes.
Add the Blue Dragon Stir-fry Oyster & Spring Onion Sauce and stir over a high heat until piping hot. Add the bok choy and spinach, and toss until the leaves just begin to wilt.
Immediately stir in the salmon pieces and add the soya and/or fish sauce, if using. Spoon onto cooked rice, and sprinkle with the toasted sesame seeds.
This page can be found at: http://secretsauce.co.uk/fish-seafood/salmon-recipes/oriental-salmon-stir-fry/
A short link can also be used: http://bit.ly/fl84wb
Blue Dragon

Blue Dragon was created over 30 years ago to help British people create authentic Chinese dishes at home. Since then it's gone truly pan-Asian, with ingredients to help create delicious dishes from Thailand, Japan and Vietnam and expanding the Chinese range.
More from Blue Dragon

Cocktail sausages cooked in honey are popular finger food, but wait until you've tried these sweet chilli versions

Isn't curry Indian? Not in this recipe - it's Chinese and delicious with egg fried rice

A delicious and unusual recipe, this sticky plum and duck stir-fry is amazing served with beetroot crisps and pistachios
Popular in salmon recipes

Lemon perfectly complements salmon so you might just have found your perfect tart recipe!

A fantastic flavour pairing by top London chef Theodore Kyriakou who says: 'I like eating the salmon pink in the middle with some rice pilaf.'

You need just three main ingredients for this easy family dish - salmon, pastry and onions