Jo Pratt's poached salmon salad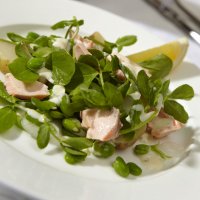 I love making this salad for an elegant alfresco lunch or dinner with friends. It can be prepared ahead of time and even better, as a bottle has to be opened for the recipe, it gives me the perfect excuse to enjoy a glass of Freixenet fizz while I get myself ready!
What you need:
6 x skinless salmon fillets
Butter for greasing
250ml Freixenet Cordon Negro
1 bay leaf
Small bunch of dill
2 shallots, peeled and sliced
450g fresh podded broad beans
100ml mayonnaise
2 tsp Dijon mustard
500g cooked new potatoes, halved or quartered
4 spring onions, finely sliced
Small bag of pea shoots or watercress sprigs
Lemon wedges to garnish
What you do:
Season the salmon fillets with salt and pepper.
Smear a little butter on the base of a large frying pan, and sit in the salmon. Slowly pour in the Freixenet and add the bay leaf, half of the dill and the shallots. Bring to a simmer, spoon some Freixenet over the salmon then cover with a lid. Poach for about 8-10 minutes until the salmon is cooked through.
Remove the salmon from the pan and boil the poaching liquid until it reduces in quantity by roughly one half. Leave both the salmon and poaching liquid to cool.
Cook the broad beans in boiling salted water for just a few minutes, then drain and rinse under the cold tap to cool. If you have the time it is well worth removing the greyish skin from the broad beans, revealing the bright green bean inside.
To make a dressing, mix together the mayonnaise and Dijon mustard then add enough of the cooled poaching liquid to make a loose dressing, with the consistency of pouring cream. Chop the remaining dill, season with salt and pepper and mix.
The broad beans, potatoes and spring onions can now be mixed with the dressing. Add the pea shoots or watercress and then flake in the salmon. Gently mix together. Serve on a plate to share or on individual plates with lemon wedges on the side.
Cook's tip:
Cava recommendation
I'd recommend drinking Freixenet Cordon Negro with Freixenet Poached Salmon Salad with New Potatoes and Broad Beans, it's clean on the palate and refreshes the flavours of the fish.
This page can be found at: http://secretsauce.co.uk/fish-seafood/salmon-recipes/jo-pratts-poached-salmon-salad/
A short link can also be used: http://bit.ly/pMT1e5
Freixenet

Based in Catalonia in Spain, Freixenet is the world's leading producer of sparkling wine. Founded in the 19th century, it remains a family owned business, but with an impressive portfolio of still and sparkling wine interests worldwide. Freixenet is available from leading supermarkets and all good off-licences. Freixenet Cordon Negro, Cordon Rosado and Cordon Oro are price £9.49. Elyssia Pinot Noir and Elyssia Gran Cuvé are available from Waitrose price £17.99. For more information, visit: www.Freixenet.co.uk.
More from Freixenet

Everyone loves a jelly - especially Jo Pratt's very sophisticated adult version with Freixenet Cava.

Jo Pratt's fruity dessert is fun to make and a delight to eat. These individual syllabubs are summer in a glass.

Jo Pratt's recipe is a real star at social gatherings - it looks impressive and yet couldn't be simpler
Popular in salmon recipes

Lemon perfectly complements salmon so you might just have found your perfect tart recipe!

A fantastic flavour pairing by top London chef Theodore Kyriakou who says: 'I like eating the salmon pink in the middle with some rice pilaf.'

You need just three main ingredients for this easy family dish - salmon, pastry and onions