Herb & pine nut salmon with potato salad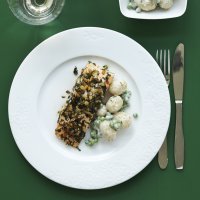 A beautiful, healthy dish to serve at dinner parties
What you need:
4 salmon fillets
6 tbsp olive oil
5 tbsp chopped parsley
5 tbsp chopped basil
5 tbsp chopped tarragon
1 small preserve lemon
Juice of half a lemon
4 tbsp chopped pine nuts
For the potato salad:
600g small new potatoes
200g Alpro soya plain yogurt
100g frozen peas
1/4 tsp cayenne pepper
1 1/2 tbsp white wine vinegar
3 tbsp chopped chives
1 clove garlic
Salt and pepper
What you do:
Mix the herbs together in a bowl with the olive oil, finely chopped preserved lemon, pine nuts and a little salt and pepper.
Cover the salmon fillets coating all surfaces with the herb mixture and leave in a cool place for a few hours to absorb the flavors.
Preheat the oven to 190 ºC, 50 mins before you are ready to serve the salmon
Cook the potatoes for the salad in salted water for 30 mins, or until cooked through drain and allow to cool a little.
Cook the salmon in a non stick pan over a low to moderate heat for 4-5 mins covered with a lid, making sure the heat is not so high that the salmon burns.
Heat the frozen peas until cooked through,(this should take 2 minutes in boiling water) drain and add to the potatoes.
Add the white wine vinegar to the potatoes.
Mix together the yoghurt, horseradish, chives, cayenne, finely chopped garlic and salt and pepper and add to the potatoes.
Serve together with the salmon.
Cook's tip:
Serve with al dente green beans tossed in extra virgin olive oil.
This page can be found at: http://secretsauce.co.uk/fish-seafood/salmon-recipes/herb-and-pine-nut-salmon/
A short link can also be used: http://bit.ly/gjwxKD
Alpro Soya

Alpro Soya creates delicious products for you to enjoy any time of the day. Made from the goodness of the whole soya bean, they are prepared with care and with the utmost respect for people and planet.
More from Alpro Soya

Don't just boil those potatoes - make them a dish in itself with this delicious traditional recipe

Looking for a vegetarian alternative for Christmas dinner? Try this traditional and delicious nut roast

Start the day with this substantial breakfast that will give you enough energy to last until lunchtime
Popular in salmon recipes

Lemon perfectly complements salmon so you might just have found your perfect tart recipe!

A fantastic flavour pairing by top London chef Theodore Kyriakou who says: 'I like eating the salmon pink in the middle with some rice pilaf.'

You need just three main ingredients for this easy family dish - salmon, pastry and onions