Spicy king prawn tikka masala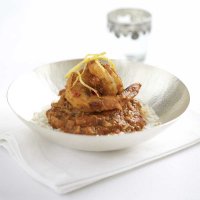 A fusion of juicy tomatoes, fresh cream, natural yoghurt with aromatic spices and a hint of honey served with king prawns
What you need:
1 tbsp veg oil
1 fresh red chilli, seeded and chopped
200g Fresh King Prawns
1 Jar Loyd Grossman Tikka Masala sauce
1 tbsp Double cream
1 tsp chopped coriander
A few strands of fresh ginger (julienned)
What you do:
Heat oil in a wok
Add the chopped chilli along with the prawns and fry for 1 minute
Pour in the jar of sauce and simmer for 7 minutes
Remove to a serving bowl and pour over the double cream
Garnish with chopped coriander leaves and ginger juliennes
Serve hot with Basmati rice
This page can be found at: http://secretsauce.co.uk/fish-seafood/prawn-recipes/spicy-king-prawn-tikka-masala/
A short link can also be used: http://bit.ly/gdCVQ7
Loyd Grossman

Try Loyd Grossman's deliciously tasty food range, including pour over sauces, soups, pasta and breads, for premium quality and inspired variety.
More from Loyd Grossman

With hardly any preparation required, this pasta dish delivers exactly what it says it will, it's quick and delicious!

This fresh seafood and spicy chorizo paella cooked with a rich tomato and basil sauce makes a perfect one-pot dinner to share alfresco.

Spicy king prawns marinated in madras curry sauce and grilled in the oven or on the BBQ for a lovely light summer supper or simple starter.
Popular in prawn recipes

Tender prawns are great in stir-fries, the cashew nuts give this dish an added crunch and the shiitake mushrooms are tender and full of flavour

A delicious sandwich enhanced by homemade seafood sauce

Forget the Eighties classic in a cocktail glass, this version is right up to date and includes smoked salmon!