Prawn mayonnaise with Tabasco sauce sandwich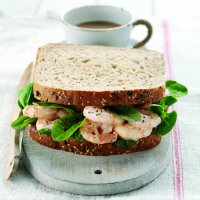 A delicious sandwich enhanced by homemade seafood sauce
What you need:
2 slices Warburtons Stoneground Wholemeal bread
Butter, for spreading
1 tbsp mayonnaise
2 tsp tomato ketchup
A few drops of Tabasco sauce
75g (3oz) cooked peeled prawns
Handful of mixed lettuce leaves
Freshly ground black pepper
What you do:
Spread the slices of bread with butter
In a bowl, mix together the mayonnaise, tomato ketchup and Tabasco sauce, then stir in the prawns
Place a handful of salad leaves onto one slice of bread and top with the prawn mixture
Season with black pepper
Sandwich together with the remaining slice of bread and cut in two
This page can be found at: http://secretsauce.co.uk/fish-seafood/prawn-recipes/prawn-mayonnaise-with-tabasco-sauce-sandwich/
A short link can also be used: http://bit.ly/feJeyz
National Bread Week 2010

Warburtons is toasting a decade of National Bread Week, which is kicking off from 3rd May to 9th May 2010. This year is all about celebrating the joys of bread and one of our great British traditions – picnics! Whether you're having an intimate picnic for two, a family gathering with the kids or an al fresco party, Warburtons has some delicious, healthy sandwich recipes for any picnicking occasion. So pack up your hamper, shake out the blanket and head out to the great outdoors… Visit href="http://"www.welovebread.co.uk">www.welovebread.co.uk for more delicious picnic recipes and information on how to vote for your favourite picnic spot.
More from National Bread Week 2010

Run out of ideas of sandwich fillings for a picnic? Try this ham salad sandwich for a quick, healthy lunch

This picnic sandwich has the perfect combination of ingredients that keeps the bread deliciously soft and fresh and wards off pesky insects and mosquitoes too!
Popular in prawn recipes

Tender prawns are great in stir-fries, the cashew nuts give this dish an added crunch and the shiitake mushrooms are tender and full of flavour

Forget the Eighties classic in a cocktail glass, this version is right up to date and includes smoked salmon!

Prawn or lobster, a bisque is always a delicious treat. Creamy, fishy, and warming, just make sure you've got some fresh crusty bread ready to serve