Salmon & prawn cocktail salad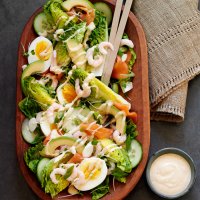 Everyone loves a prawn cocktail, but this is one with a twist using Heinz salad cream lemon & black pepper combined with smoked salmon and prawns.
Preparation: 10 mins
Cooking: 10 mins
Serves: 4
What you need:
4 large organic eggs
3 tbsp Heinz salad cream lemon & black pepper
4 tbsp natural yoghurt
Zest of a lemon
Heinz fiery chilli twisted ketchup, to taste
2-3 large gem lettuce heads, quartered and washed
2 ripe avocados, sliced
1/2 small cucumber, sliced
1/2 punnet of salad cress, cut
200g smoked salmon, cut into strips
150g cooked and peeled prawns
4 spring onions, sliced
What you do:
Place the eggs into a saucepan and cover with water and bring to the boil and simmer for 8 minutes, 10 minutes if you like the yolk completely set. Drain, cool under cold running water, peel and halve.
Meanwhile for the dressing mix the Heinz salad cream lemon & black pepper with the yoghurt, zest and add Heinz fiery chilli twisted ketchup to taste.
Place the gem lettuce leaves on a large platter or divided between 4 plates.
Top with the avocado, cucumber, salad cress and the egg halves.
Finish with the strips of smoked salmon and prawns, and spoon over the dressing before scattering over the spring onions, and serve.
Cook's tip:
Leave the Heinz fiery chilli twisted ketchup out of the recipe if you don't like a kick to your dressing.
This page can be found at: http://secretsauce.co.uk/fish-seafood/prawn-recipes/salmon-and-prawn-cocktail-salad/
A short link can also be used: http://bit.ly/hgVySX
Heinz Salad Cream

Heinz Salad Cream has been wowing the nation for over 80 years. There really is nothing else to compare with its tangy taste - and of course, it complements far more than salads, go to our inspiration page for more recipe ideas.
More from Heinz Salad Cream

Easy to prepare, these chicken dippers are perfect handed round at parties!

You'll love this recipe! The creaminess of the coleslaw goes perfectly with the salty gammon and sweet pineapple.

Lemon perfectly complements salmon so you might just have found your perfect tart recipe!
Popular in prawn recipes

Tender prawns are great in stir-fries, the cashew nuts give this dish an added crunch and the shiitake mushrooms are tender and full of flavour

A delicious sandwich enhanced by homemade seafood sauce

Prawn or lobster, a bisque is always a delicious treat. Creamy, fishy, and warming, just make sure you've got some fresh crusty bread ready to serve