Stir-fry prawns with mushroom & broccoli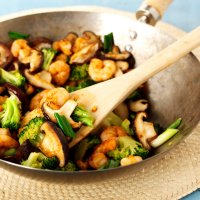 Tender prawns are great in stir-fries, the cashew nuts give this dish an added crunch and the shiitake mushrooms are tender and full of flavour
What you need:
1 tbsp. cornflour
pinch of cayenne pepper
225g tiger prawns, uncooked
2 tbsp. soy sauce
spray oil for frying
25g unsalted cashew nuts
120g shiitake mushrooms, halved
200g broccoli, chopped into florets
1 clove of garlic, crushed
1 small piece of ginger root, finely chopped
2 spring onions, diagonally sliced
4 tbsp rice wine
What to do:
Mix the cornflour and cayenne in a bowl, add the prawns and coat thoroughly, then mix in the soy sauce and leave in a cool place for about 30 minutes.
Spray some oil into a wok and place over a high heat, add the cashews and stir-fry for 30 seconds or until golden, then remove them to a plate.
Next add the mushrooms and stir fry for 1-2mins until golden.
Add the prawns and stir-fry for about 1-2 minutes, until they turn pink. Add the remaining ingredients and stir fry for another minute.
Return the nuts to the pan, turn the heat down to medium, add the rice wine and a little water, then put a lid on the pan and cook for a further minute.
Serve with glass noodles or boiled rice.
This page can be found at: http://secretsauce.co.uk/fish-seafood/prawn-recipes/stir-fry-prawns-mushroom-broccoli/
A short link can also be used: http://bit.ly/gk6JQZ
Skandi Candle
Pure soy wax candles in Flack Fig & Vetiver or Lemon fragrances - perfect for any dinner party or romantic night in.
Mushroom Bureau

Not only are mushrooms inexpensive and versatile, they are also satisfying, delicious and nutritious. Their succulent and unique meaty taste adds depth and gives a balanced flavour to dishes, making them a scrumptious meat substitute.
More from Mushroom Bureau

Actress Tamzin Outhwaite is a great fan of mushrooms - she loves this recipe for a quick, delicious and healthy stroganoff - perfect for a week-night

This delicious spaghetti dish is ready in under 15 minutes and you could serve it cold for a packed lunch the next day!

These little mushroom pies look so impressive but are really easy and quick to make.
Popular in prawn recipes

Forget the Eighties classic in a cocktail glass, this version is right up to date and includes smoked salmon!

A delicious sandwich enhanced by homemade seafood sauce

Prawn or lobster, a bisque is always a delicious treat. Creamy, fishy, and warming, just make sure you've got some fresh crusty bread ready to serve