Scaramouche wrap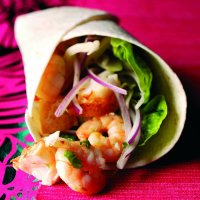 The Scaramouche wrap has a kick of chilli and a fresh and zesty twist with a squeeze of lime across delicious lobster and tiger prawns.
Preparation: 10 mins
Serves: 4
What you need:
1 bulbs fennel, very finely sliced
1 small red onion, finely sliced
Grated zest and juice 1 lime
Large pinch dried chilli flakes
5 tbsp extra virgin olive oil
2-3 frozen and defrosted cooked lobster tails
150g cooked tiger prawns
2 tbsp chopped mint
2 tbsp chopped flat-leaf parsley
Little gem lettuce
4 Mission wraps
What you do:
Mix together the fennel, onion, lime zest and juice, chilli and oil in a large bowl. Season and toss well.
Remove the lobster from the shell and add to the fennel along with the prawns.
Add the herbs and toss well.
Divide the salad leaves between the 4 wraps.
Arrange lobster mix on top.
Fold the wrap and serve immediately.
This page can be found at: http://secretsauce.co.uk/fish-seafood/prawn-recipes/scaramouche-wrap/
A short link can also be used: http://bit.ly/gjPo0K
Mission Foods

If you're looking for the authentic Mexican-American taste of tortillas, wraps and tortilla chips, you can't make a better choice than Mission Foods
More from Mission Foods

These are a perfect alternative to a tradtional sandwich for kids during the summer holidays!

A tasty warm pitta option, best served with a light greek salad.

These energy wraps make a great lunch - they're packed with slow-releasing carbohydrates and energy-releasing B vitamins to keep you going longer
Popular in prawn recipes

Tender prawns are great in stir-fries, the cashew nuts give this dish an added crunch and the shiitake mushrooms are tender and full of flavour

A delicious sandwich enhanced by homemade seafood sauce

Forget the Eighties classic in a cocktail glass, this version is right up to date and includes smoked salmon!