Prawn paella 'cakes'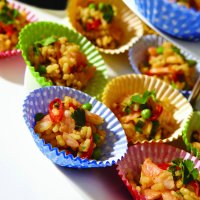 This recipe is perfect for picnics or drinks parties at home. And on the rare occasions that there are some left over, the savoury cakes are perfect in lunch boxes, picnics and for alfresco eating. It's very simple to prepare - just make a Paella, let it cool, then shape small handfuls into little cakes before presenting them in paper cake cases - delicioso!
What you need:
Makes about 16 cakes
2 tbsp olive oil
1 small onion, finely chopped
1/2 red pepper, seeds removed and thinly sliced
200g paella rice
375ml fish stock
125ml Freixenet Cordon Negro
pinch of saffron
1/2 tsp smoked Spanish paprika (normal paprika can also be used)
6 sun-dried tomato halves, finely chopped
75g frozen peas, de-frosted
200g frozen cooked small prawns, de-frosted
1 small handful of flat leaf parsley, chopped
Flat leaf parsley leaves and small slices of lemon to garnish
What you do:
Heat the olive oil in a frying pan and cook the onion until softened. Add the pepper and cook for about 5 minutes. Stir in the rice, until it's coated with the oil and then add the stock and Freixenet, saffron, paprika and sun-dried tomatoes. Bring to a simmer and cook for about 20-25 minutes or until the rice is tender and the stock has almost been absorbed.
Stir in the peas and prawns, letting them heat through for a couple of minutes.
Season with salt and pepper, stir in the parsley and then remove the pan from the heat, leaving the mixture to cool.
Once cool, firmly shape the mixture into about 16 round, slightly flattened cakes. Put each cake into a paper cake case. I tend to double up on the paper cases to make them more sturdy. Chill the paella cakes in the fridge or cool box until needed. Remove them just before you serve - garnishing the tops with parsley leaves or a slice of lemon.
Cook's tip:
Cava recommendation
I'd recommend drinking Freixenet Cordon Negro with prawn paella cakes, it's fresh and fruity and is great with fish and seafood.
This page can be found at: http://secretsauce.co.uk/fish-seafood/prawn-recipes/prawn-paella-cakes/
A short link can also be used: http://bit.ly/qwayMd
Freixenet

Based in Catalonia in Spain, Freixenet is the world's leading producer of sparkling wine. Founded in the 19th century, it remains a family owned business, but with an impressive portfolio of still and sparkling wine interests worldwide. Freixenet is available from leading supermarkets and all good off-licences. Freixenet Cordon Negro, Cordon Rosado and Cordon Oro are price £9.49. Elyssia Pinot Noir and Elyssia Gran Cuvé are available from Waitrose price £17.99. For more information, visit: www.Freixenet.co.uk.
More from Freixenet

Everyone loves a jelly - especially Jo Pratt's very sophisticated adult version with Freixenet Cava.

Jo Pratt's fruity dessert is fun to make and a delight to eat. These individual syllabubs are summer in a glass.

Jo Pratt's recipe is a real star at social gatherings - it looks impressive and yet couldn't be simpler
Popular in prawn recipes

Tender prawns are great in stir-fries, the cashew nuts give this dish an added crunch and the shiitake mushrooms are tender and full of flavour

A delicious sandwich enhanced by homemade seafood sauce

Forget the Eighties classic in a cocktail glass, this version is right up to date and includes smoked salmon!