Prawn korma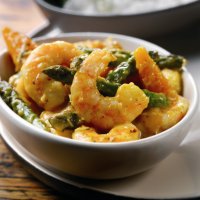 Superb subtle flavours of coconut cream and spices have been balanced with the inspiringly spectacular colour of this sauce. The prawns can be swapped for any delicate fish or vegetables.
Serves: 4
What you need:
1 tbsp vegetable oil
2 pods green cardamom, remove the seeds and discard the skin
½ tsp crushed black peppers
20 medium size raw prawns, peeled, cleaned and washed
16 asparagus spears cut into 4cm batons
20 baby carrots, peeled and parboiled
150ml Seeds of Change Korma sauce
100ml warm water
4 coriander sprigs for garnish
What you do:
Heat oil, sauté cardamom seeds and crushed black pepper for one minute and add prawns, asparagus and carrots.
Sauté for 2 minutes and then add sauce and simmer until prawns are cooked.
Adjust the consistency of the sauce by diluting with warm water. Garnish with coriander sprigs and serve hot, with steamed rice.
This page can be found at: http://secretsauce.co.uk/fish-seafood/prawn-recipes/prawn-korma/
A short link can also be used: http://bit.ly/evTOEI
Seeds of Change

Seeds of Change's aim is to provide a range of good, honest food, full of taste and flavour that is also good for you. The range of delicious sauces, soups, pasta and cereal bars is organic and free of artificial additives and preservatives.
More from Seeds of Change

Creamy, delicious and filling - an easy and satisfying meal for the family

This is a great one-pot dish. Look out for good quality meat in your supermarket

This delicious rhubarb crumble recipe was created by gardener and celebrity Kim Wilde
Popular in prawn recipes

Tender prawns are great in stir-fries, the cashew nuts give this dish an added crunch and the shiitake mushrooms are tender and full of flavour

A delicious sandwich enhanced by homemade seafood sauce

Forget the Eighties classic in a cocktail glass, this version is right up to date and includes smoked salmon!