Peppery soy sauce prawns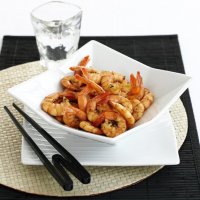 This is the simplest way to prepare prawns in their shells. Cantonese chefs in Hong Kong restaurants do it with great flourish and lots of flame. It is pure theatre and the secret is in the dexterity of wielding the wok.
Serves: 4
Cals per serving: 111
Fat per serving: 8.6g
Prep time: 16-20 minutes
Cooking time: 6-7 minutes
What you need:
16 large raw tiger prawns
3 tbsp vegetable oil
1 tbsp chopped garlic
1 tbsp black pepper
1 tbsp Kikkoman Soy Sauce
What you do:
Clean and peel prawns retaining tails if desired for better presentation. Heat wok and dry fry for 2 minutes.
Push aside and add oil and garlic and fry for 1 minute. Add pepper and soy sauce and stir prawns rapidly over high heat for 2-3 minutes.
Cover with wok lid for 1 minute, and then serve immediately.
This page can be found at: http://secretsauce.co.uk/fish-seafood/prawn-recipes/pepper-soy-sauce-prawns/
A short link can also be used: http://bit.ly/fPohBh
Kikkoman

Kikkoman's world famous naturally brewed soy sauce is still made to the same traditional recipe created in Japan 300 years ago using just soybeans, wheat, salt and water to bring out the flavour of your dishes.
More from Kikkoman

This scrumptious chilli con carne contains a little dark chocolate to make it rich and deep and flavour, but don't worry, you won't be able to taste it as such

Make something a bit different from your usual chicken stir-fry with sticky sweet honey and garlic to coat the chicken

Juicy meatballs that all the family will enjoy. The soy sauce really brings out the flavour of the tomatoes - just try it!
Popular in prawn recipes

Tender prawns are great in stir-fries, the cashew nuts give this dish an added crunch and the shiitake mushrooms are tender and full of flavour

Forget the Eighties classic in a cocktail glass, this version is right up to date and includes smoked salmon!

A delicious sandwich enhanced by homemade seafood sauce