Tomato & meatball pasta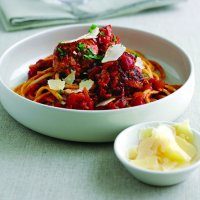 Juicy meatballs that all the family will enjoy. The soy sauce really brings out the flavour of the tomatoes - just try it!
Preparation: 20 mins
Cooking: 30 mins
Serves: 4
What you need:
400g pork mince
1 tsp smoked paprika
1 tbs flat leaf parsley, chopped
1 tbs breadcrumbs
2 tbs Kikkoman Soy Sauce
100g smoked pancetta, cubed
1 red onion, very finely diced
2 cloves garlic, crushed
1 tbs rosemary, very finely chopped
1 tin chopped tomatoes
30ml water
1 tsp chilli powder (or to taste)
1 tbs Kikkoman Soy Sauce
Black pepper
1tsp sugar
500g dried linguine pasta
30g parmesan cheese shavings
2 tbs flat leaf parsley, chopped
What you do:
In a large bowl, mix the pork mince, paprika, parsley, breadcrumbs and Kikkoman Soy Sauce and combine thoroughly. Shape into golf ball sized pieces and chill in the fridge for 30 mins.
Seal the meatballs in batches in a non stick pan until coloured, this will take around 10-12 mins then set aside. Fry the pancetta until golden then in the same pan add the onion, garlic and rosemary and cook over a medium heat for a further 3 mins. Add the tomatoes, water and chilli powder then return the meatballs to the pan. Simmer for 15-20 mins or until the meatballs are cooked through. Season with Kikkoman Soy Sauce, pepper and the sugar.
Cook the linguine to the packet instructions in boiling salted water.
Add the pasta to the meatballs, stir through and serve with some parmesan shavings and some flat leaf parsley.
Cook's tip:
The meatballs can be made ahead and reheated
This page can be found at: http://secretsauce.co.uk/pasta-rice/meatball-recipes/tomato-and-meatball-pasta/
A short link can also be used: http://bit.ly/MEVvU6
Kikkoman

Kikkoman's world famous naturally brewed soy sauce is still made to the same traditional recipe created in Japan 300 years ago using just soybeans, wheat, salt and water to bring out the flavour of your dishes.
More from Kikkoman

This scrumptious chilli con carne contains a little dark chocolate to make it rich and deep and flavour, but don't worry, you won't be able to taste it as such

Make something a bit different from your usual chicken stir-fry with sticky sweet honey and garlic to coat the chicken

This is the simplest way to prepare prawns, just follow our recipe and you'll have peppery soy prawns in a flash!
Popular in meatball recipes

Go on, get your hands messy by making your own meatballs - it'll make your final delicious meal even more satisfying!