Honey & garlic chicken stir-fry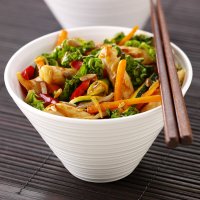 Make something a bit different from your usual chicken stir-fry with sticky sweet honey and garlic to coat the chicken
Preparation Time: 25 minutes
Cooking Time: 10 minutes
Serves: 4
Cals per serving: 361
Fat per serving: 15g
Saturated fat per serving: 2.8g
What you need:
4 skinless chicken breast, cut into fine strips
1 egg white, whisked
pinch of salt
2 tsp cornflour
3 tbsp groundnut oil
1 tsp fresh ginger, shredded
1 small Savoy cabbage, shredded
5 spring onions, sliced diagonally
2 sweet red peppers, cut into strips
3 carrots, peeled and cut into fine strips
3 courgettes cut into fine strips
200g bean sprouts
5 tbsp Kikkoman Honey and Garlic Teriyaki Stir Fry and Marinade
2 tbsp mixed seeds - sesame, pumpkin and sunflower
What you do:
Combine the chicken with the egg white, salt and corn flour. Refrigerate for about 15 minutes.
Heat the wok or large frying pan and add half the oil. Add the chicken and stir fry for about 2 minutes until the chicken turns white and opaque.
Drain the chicken, set aside and discard the oil. Wipe the wok clean with kitchen towel.
Heat the wok again and add the remaining oil. Add the ginger and fry for a minute. Add all the vegetables apart from the bean sprouts and stir fry for 5-6 minutes. Return the chicken to the wok and stir fry with the vegetables. Add the bean sprouts and Kikkoman Honey and Garlic Stir Fry and Marinade. Stir fry for a further minute. Just before serving sprinkle on the seed mix. Serve with cooked egg noodles.
Handy tip: Replace the chicken with tofu for a vegetarian alternative.
This page can be found at: http://secretsauce.co.uk/meat-poultry/chicken-recipes/honey-garlic-chicken-stir-fry/
A short link can also be used: http://bit.ly/gk0hbM
Kikkoman

Kikkoman's world famous naturally brewed soy sauce is still made to the same traditional recipe created in Japan 300 years ago using just soybeans, wheat, salt and water to bring out the flavour of your dishes.
More from Kikkoman

This scrumptious chilli con carne contains a little dark chocolate to make it rich and deep and flavour, but don't worry, you won't be able to taste it as such

This is the simplest way to prepare prawns, just follow our recipe and you'll have peppery soy prawns in a flash!

Juicy meatballs that all the family will enjoy. The soy sauce really brings out the flavour of the tomatoes - just try it!
Popular in chicken recipes

For a quick and easy evening meal, chicken, leek and Cheddar bake, with melt in the mouth cheese, will be a firm family favourite that takes just 10 minutes to prepare

While you're getting this together, why not double up on the ingredients and freeze a lovely chicken and leek pie for another time?

Easy to prepare, these chicken dippers are perfect handed round at parties!