Madras marinated prawns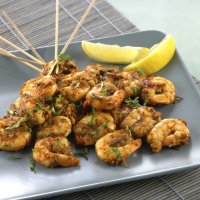 Spicy king prawns marinated in madras curry sauce and grilled in the oven or on the BBQ for a lovely light summer supper or simple starter.
What you need:
1 x 350g jar Loyd Grossman Madras Curry Sauce
300g raw king prawns, peeled
1 tbsp coriander, roughly chopped
1 lemon cut into wedges
What you do:
Pour the Madras Curry sauce into a saucepan and bring to the boil. Reduce the heat and simmer until the sauce has become a thick paste, then leave to cool.
Thread the prawns onto small skewers and place in the cooled Madras Curry marinade (if using wooden skewers, soak them beforehand to prevent burning).
Cook the prawns under a hot grill or BBQ for 10-15 minutes, turning once, until pink.
Garnish with chopped coriander and serve with lemon wedges.
Cook's tip:
This recipe is equally delicious made with chicken breasts, just increase the cooking time as required.
This page can be found at: http://secretsauce.co.uk/fish-seafood/prawn-recipes/madras-marinated-prawns/
A short link can also be used: http://bit.ly/1wkOsES
Skandi Candle
Pure soy wax candles in Flack Fig & Vetiver or Lemon fragrances - perfect for any dinner party or romantic night in.
Loyd Grossman

Try Loyd Grossman's deliciously tasty food range, including pour over sauces, soups, pasta and breads, for premium quality and inspired variety.
More from Loyd Grossman

With hardly any preparation required, this pasta dish delivers exactly what it says it will, it's quick and delicious!

This fresh seafood and spicy chorizo paella cooked with a rich tomato and basil sauce makes a perfect one-pot dinner to share alfresco.

A fusion of juicy tomatoes, fresh cream, natural yoghurt with aromatic spices and a hint of honey served with king prawns
Popular in prawn recipes

Tender prawns are great in stir-fries, the cashew nuts give this dish an added crunch and the shiitake mushrooms are tender and full of flavour

Forget the Eighties classic in a cocktail glass, this version is right up to date and includes smoked salmon!

A delicious sandwich enhanced by homemade seafood sauce