King prawn & butternut laksa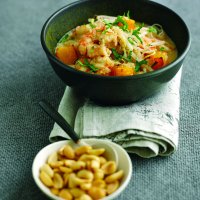 A spicy soup inspired by Malaysia
Preparation: 25 mins
Cooking: 75 mins
Serves: 4
What you need:
1 butternut squash, peeled and cubed
4 tbs Kikkoman soy sauce
1 thumb sized piece ginger
1 red chilli, deseeded
3 cloves garlic
1 onion, roughly chopped
1 tbs brown sugar
1 tin coconut milk
1 pint vegetable stock
400g vermicelli rice noodles
400g raw king prawns, shelled
100g bean sprouts
juice 1 lime
3 tbs fresh coriander
30g peanuts
What you do:
Place the butternut cubes onto a baking tray, drizzle with 1 tbs Kikkoman Soy Sauce, oil and roast in a pre heated oven set at 180c for around 1 hour.
Place the ginger, chilli, garlic, onion and sugar into a small blender and blitz to make a paste. Fry the paste in some vegetable oil for 2-3 mins over a medium heat. Add the coconut milk and stock and bring to the boil, reduce the heat to a simmer.
Meanwhile cook the noodles by placing them in boiling water along with 1 tbs Kikkoman Soy Sauce, turn off the heat and leave to stand for 5 mins, drain and divide between 4 bowls.
Add the prawns to the liquor, along with the butternut squash, and cook the prawns until they turn pink, this should take around 3 mins. Then add the bean sprouts and season with 2 tbs Kikkoman Soy Sauce and lime juice to taste. Ladle on top of the noodles then garnish with fresh coriander and peanuts. Serve with a lime wedge
Cook's tip:
Adjust the amount of chilli to suit your taste
This page can be found at: http://secretsauce.co.uk/fish-seafood/prawn-recipes/king-prawn-and-butternut-laksa/
A short link can also be used: http://bit.ly/M6OeR0
Kikkoman

Kikkoman's world famous naturally brewed soy sauce is still made to the same traditional recipe created in Japan 300 years ago using just soybeans, wheat, salt and water to bring out the flavour of your dishes.
More from Kikkoman

This scrumptious chilli con carne contains a little dark chocolate to make it rich and deep and flavour, but don't worry, you won't be able to taste it as such

Make something a bit different from your usual chicken stir-fry with sticky sweet honey and garlic to coat the chicken

This is the simplest way to prepare prawns, just follow our recipe and you'll have peppery soy prawns in a flash!
Popular in prawn recipes

Tender prawns are great in stir-fries, the cashew nuts give this dish an added crunch and the shiitake mushrooms are tender and full of flavour

Forget the Eighties classic in a cocktail glass, this version is right up to date and includes smoked salmon!

A delicious sandwich enhanced by homemade seafood sauce