Poached pears with red wine & ginger sauce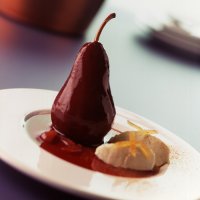 Poached pear recipes are always popular. This one is distinguished by the addition of ginger.
What you need:
4 hard pears
300ml/10fl oz red wine
25g/1 oz caster sugar
1 whole cinnamon stick
5ml/1tsp arrowroot
1 piece stem ginger in syrup, very finely chopped
15ml/1tbsp stem ginger syrup
What you do:
Peel the pears, but leave the stalks intact.
Slice a thin disc from the base of each pear, if necessary, to make it sit upright.
Place the pears on their sides in saucepan. Pour in the red wine, sprinkle over the sugar and add the cinnamon stick.
Bring up to simmering point, cover the pan and simmer very slowly for about one hour, turning now and again so that the pears cook evenly in the wine.
When the pears are cooked, transfer to a bowl to cool, leaving the poaching liquid in the pan. Remove the cinnamon stick.
Mix the arrowroot with a little water until it forms a smooth paste. Add this to the liquid in the pan over direct heat. Bring the syrup just up to simmering point so that it thickens slightly and becomes translucent.
Take the pan off the heat and stir in the chopped stem ginger and ginger syrup to taste. Leave to cool. Spoon the sauce over the pears, basting them well. Cover and chill thoroughly. Serve the pears in individual dishes with the sauce spooned over.
Recipe created by the Cordon Vert cookery school
This page can be found at: http://secretsauce.co.uk/cakes-desserts/pear-recipes/poached-pears-with-red-wine-and-ginger-sauce/
A short link can also be used: http://bit.ly/eOEjtD
Vegetarian Society

The Vegetarian Society is a registered charity committed to promoting the health, environmental and welfare benefits of a vegetarian diet.
More from Vegetarian Society

These Halloween snails look deliciously slimy. Who's going to be brave enough to take the first bite?

A fantastic ale and mushroom pie recipe perfect to warm you up when it's chilly outside and you want something tasty and filling

Need some get up and go in the morning? This smoothie is just what you need. Ready, steady...
Popular in pear recipes

Sweet and juicy pears with sticky maple syrup make the perfect romantic dessert for two

Surprise your guests with this gorgeous tart - Billington's Dark Muscovado Sugar makes this dark cinnamon pastry intriguingly different

A cobbler is a scrumptious variation on a pie or crumble. The 'cobble' topping contains buttermilk and has a lovely light texture and crusty surface