Red wine pear tart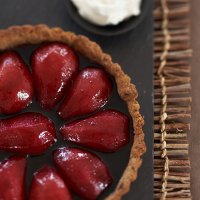 Surprise your guests with this gorgeous tart - Billington's Dark Muscovado Sugar makes this pastry intriguingly different
What you need:
For the pastry:
150g (6oz) butter, cubed
125g (5oz) Billington's Dark Muscovado Sugar
3 medium egg yolks
1 tsp ground cinnamon
300g Allinson Wholemeal Plain flour
For the filling:
8 pears, carefully peeled, halved lengthways and cores removed
1 cinnamon stick
100g (4oz) Billington's Golden Caster Sugar
600ml (1pt) red wine
What you do:
Put the butter and Billington's Dark Muscovado Sugar together in a blender. Whizz together until smooth and creamy. Add the egg yolks and cinnamon and blend again for a few seconds. Add the Allinson Wholemeal Flour and pulse together until the mixture forms into a ball. Wrap the pastry in cling film and chill for 30 minutes.
Preheat the oven to 200ºC/fan 180ºC/gas 6. Grease a 21cm (9inch) loose based fluted flan tin. Roll out the pastry on a sheet of baking parchment, then carefully lift into the flan tin. Press the pastry well into the edges, then trim off the excess pastry by rolling over the top with the rolling pin. Line the case with greaseproof paper and beans. Bake for 15 minutes, remove paper and beans and cook for 5 more minutes until the pastry is crisp and golden.
Meanwhile, take a large deep frying pan or casserole dish; add the pears, cinnamon stick, Golden Caster Sugar and red wine. Cover, bring to the boil, then simmer for 30-40 minutes until the pears are tender.
Carefully remove the pears with a slotted spoon and put onto a large plate, then arrange in the pastry case. Boil the wine juices for several minutes until they become syrupy. Drizzle over the top of the pears. Serve warm or cold.
This page can be found at: http://secretsauce.co.uk/cakes-desserts/pear-recipes/red-wine-pear-tart/
A short link can also be used: http://bit.ly/guZTgn
Baking Mad

Baking Mad - with recipes and baking ideas, it's the place for everything you ever wanted to know about baking.
More from Baking Mad

Just look at the fantastic colour of the icing on these fairy cakes - and there's not a hint of food colouring in sight

The longer you soak the fruit for these Christmas cakes, the better the flavour will be. Then make the cake a few days before for a moisty gorgeous spongy texture. Heavenly!

Forget the traditional Cornish pasty, this sweet potato, smoked cheese and squash version is twice delicious!
Popular in pear recipes

Poached pear recipes are always popular. This one is distinguished by the addition of ginger.

Sweet and juicy pears with sticky maple syrup make the perfect romantic dessert for two

Saffron is the royal spice often used around Diwali time for its fantastic flavour and jewel-like colour