Baked pears in maple syrup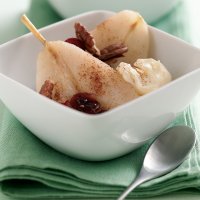 Sweet and juicy pears with sticky maple syrup make the perfect romantic dessert for two
Preparation time: 5 minutes
Cooking time: 3 minutes
Calories per portion: 364 Kcal
Fat per portion: 13g, of which saturated 1.2g
Serves: 2
Suitable for vegetarians
What you need:
Pears 2
Dried cranberries or cherries 2 tbsp
Maple syrup 2 tbsp
Ground cinnamon a pinch, optional
Pecan nuts 6 halves, roughly broken
Natural yogurt or crème fraîche to serve
What you do:
Peel and halve the pears. Keep the stalks on if you like. Scoop out the cores with a melon baller or teaspoon. Put the pear halves, cut-side down, in a shallow dish. Sprinkle with the dried fruit and pour over 1 tablespoon of the maple syrup. Sprinkle with a little cinnamon, if using.
Cover the dish with a microwave lid or cling film and cook on high power for 3 minutes, checking and stirring the dried fruit after 2 minutes. To bake in the oven, preheat it to 180°C/350°F/Gas 4, cover the dish with foil and bake for 15-20 minutes.
Serve the pears with a little more maple syrup drizzled over and sprinkled with the broken nuts. Add a generous spoonful of thick yogurt or crème fraîche and accompany with a few biscuits, if you like.
Handy cook's tip:
If you halve the recipe, just cook for 11/2 -2 minutes in the microwave.
Handy shopper's tip:
Dried cranberries or cherries can be bought in small packs and keep well for adding colour, flavour and natural goodness to your cereal, cakes and puds.
This page can be found at: http://secretsauce.co.uk/cakes-desserts/pear-recipes/baked-pears-maple-syrup/
A short link can also be used: http://bit.ly/dQJuwd
Dairy Diary

The new Clever Cooking for One or Two cookbook is priced at £9.50 (plus £2P&P). To order a copy or for further information call 0845 0948 128, speak to your local milkman or visit Dairy Diary
More from Dairy Diary

This is a classic British dish that's like a giant sausage roll. Serve with greens and mustard for a traditional dinner for two

While you're getting this together, why not double up on the ingredients and freeze a lovely chicken and leek pie for another time?

When it comes to cakes, very little beats a moist, soft, light, fruity muffin and these raspberry versions are no exception
Popular in pear recipes

Poached pear recipes are always popular. This one is distinguished by the addition of ginger.

Surprise your guests with this gorgeous tart - Billington's Dark Muscovado Sugar makes this dark cinnamon pastry intriguingly different

A cobbler is a scrumptious variation on a pie or crumble. The 'cobble' topping contains buttermilk and has a lovely light texture and crusty surface