Strawberry & white chocolate muffins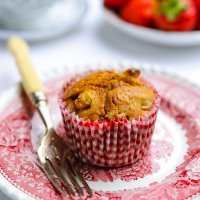 When you've got the girls coming over for a natter, put a smile on their faces with these scrummy muffins

Preparation: 20 mins
Cooking: 25 mins
Serves: 12

What you need:

120g butter
120g soft brown sugar
150ml milk
2 medium eggs
Seeds of one vanilla pod
250g plain flour
1/2 tbsp baking powder
60g white chocolate buttons
100g Sweet Eve strawberries, diced into small pieces

What you do:
Pre-heat the oven to 170°C. Place 12 muffin cases in a muffin tray.
Melt the butter in a saucepan with the sugar. Mix well. Take off the heat and add the milk, eggs and vanilla.
Sift the flour and baking powder and mix into the mixture quite quickly, using just 10 strokes to fold in.
Stir in the strawberry pieces and chocolate buttons. Spoon the mixture into the muffin cases and bake for 25 minutes, till golden brown on top and springy to the touch. Cool on a wire rack.
This page can be found at: http://secretsauce.co.uk/cakes-desserts/muffin-recipes/strawberry-and-white-chocolate-muffins/
A short link can also be used: http://bit.ly/1aERzSY
Skandi Candle
Pure soy wax candles in Flack Fig & Vetiver or Lemon fragrances - perfect for any dinner party or romantic night in.
Sweet Eve Strawberries

Sweet, juicy and plump, British strawberries are undeniably the taste of a good summer. Sweet Eve is a new variety of British strawberry. Packed with sweetness and flavour Sweet Eve is in season from June until October and it tastes like strawberries used to taste.
More from Sweet Eve Strawberries

Sophie says: 'I love making this as a celebration cake for special occasion - the layers of meringue with the fruit in between look very pretty.'

When it gets a bit wintry nothing beats a great crumble for dessert - it's sweet, crunchy and with a dribble of custard, perfect!

Strawberries, cream and a dash of cinnamon - the perfect pudding combination.
Popular in muffin recipes

When it comes to cakes, very little beats a moist, soft, light, fruity muffin and these raspberry versions are no exception

These delicious, fruity berry mini muffins are perfect for lunchbox snacks and simple enough to bake with the kids.

Sweet, delicious breakfast muffins will certainly get your morning off to a good start!