Oaty crumble apple muffin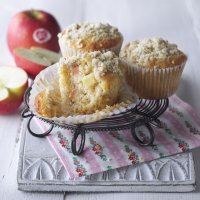 These delicious muffins will definitely fill a hole. Packed with bran and chunks of Pink Lady apple, it's like an apple crumble in a cake.
Preparation: 20 mins
Cooking: 20 mins
Serves: 12
What you need:
1 Pink Lady apple, cored
200g self raising flour, sieved
50g oatbran
1/2 tsp baking powder
175g caster sugar
zest and juice 1 orange
3 medium eggs
100ml sunflower oil
75ml buttermilk
For the crumble
25g butter
50g plain flour
1 tbsp caster sugar
25g rolled porridge oats
What you do:
Preheat the oven to 190°C (170°C fan oven, gas mark 5). Line a 12-hole muffin tin with paper muffin cases.
Coarsely grate half the Pink Lady apple and put into a large bowl. Dice the remaining apple and add the flour, oatbran, baking powder, sugar and orange zest. Lightly beat together the orange juice, eggs, oil and buttermilk in a jug until combined. Pour the egg mixture into the flour and stir with a spatula until just combined. Divide equally between the paper cases.
For the crumble, rub together the flour, oats, sugar and butter in a bowl until it resembles coarse breadcrumbs. Sprinkle over the top of the cakes and bake in the oven for 20 minutes until lightly golden and risen. Leave to cool in the tin for 5 minutes and then transfer to a wire rack to go cold.
This page can be found at: http://secretsauce.co.uk/cakes-desserts/muffin-recipes/oaty-crumble-apple-muffin/
A short link can also be used: http://bit.ly/lAm92l
Pink Lady apples

Pink Lady apples have a distinctive crisp texture and fizzy flavour – similar to champagne. It takes 200 days of tender care and, once ripe, each apple undergoes a rigorous quality control process to ensure that the high standard is kept – only the best apples can become a Pink Lady apple. Pink Lady apples are perfect culinary apples as they retain their texture and unique flavour and little, if any, additional sugar needs to be added.
More from Pink Lady apples

Flapjacks are great for desserts, snacks and even lunchboxes, so make up a tray and watch them disappear!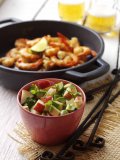 Even when the sun doesn't always shine this tasty, zingy very easy to make Australian recipe will make it seem like it does.

This wonderfully decadent dessert is perfect to serve at a large family gathering.
Popular in muffin recipes

When it comes to cakes, very little beats a moist, soft, light, fruity muffin and these raspberry versions are no exception

These delicious, fruity berry mini muffins are perfect for lunchbox snacks and simple enough to bake with the kids.

Sweet, delicious breakfast muffins will certainly get your morning off to a good start!