Mini muffin loaves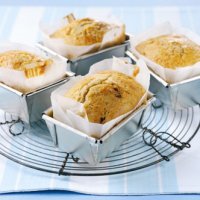 Make your own sweet and delicious mini muffin loaves and let the smell of baking infuse your home
Makes: 6 - 8
What you need:
125g self raising flour
1/2 teaspoon salt
2 teaspoons baking powder
75g dried cranberries
40g soft brown sugar
1 egg
275ml Alpro soya Original alternative to milk
4 tablespoons cooking oil
What you do:
Preheat the oven to 200C, 400F, Gas Mark 6.
Grease and line 6 mini loaf tins (5cm x 7cm x 5cm) or 8 deep muffin tins.
Sieve together the flour, salt and baking powder in a large bowl. Stir in the cranberries and sugar.
Beat the egg in a bowl with the Alpro soya Original and oil.
Add the egg mix to dry ingredients and mix together. Do not overbeat.
Fill each tin with mixture and bake for 25-30 minutes until well risen and golden brown.
This page can be found at: http://secretsauce.co.uk/cakes-desserts/muffin-recipes/mini-muffin-loaves/
A short link can also be used: http://bit.ly/hvInMr
Alpro Soya

Alpro Soya creates delicious products for you to enjoy any time of the day. Made from the goodness of the whole soya bean, they are prepared with care and with the utmost respect for people and planet.
More from Alpro Soya

Don't just boil those potatoes - make them a dish in itself with this delicious traditional recipe

Looking for a vegetarian alternative for Christmas dinner? Try this traditional and delicious nut roast

Start the day with this substantial breakfast that will give you enough energy to last until lunchtime
Popular in muffin recipes

When it comes to cakes, very little beats a moist, soft, light, fruity muffin and these raspberry versions are no exception

These delicious, fruity berry mini muffins are perfect for lunchbox snacks and simple enough to bake with the kids.

Sweet, delicious breakfast muffins will certainly get your morning off to a good start!