Jill Brand's strawberry ice cream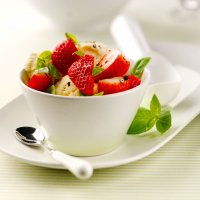 Food expert Jill Brand is one of the Women's Institute's trained judges and has written several books sharing the cookery secrets of the WI. She has also appeared as a guest judge on Celebrity Masterchef.
Preparation: 20 mins
Serves: 4
What you need:
450g Strawberries washed, dried and hulled
Juice of orange
175g caster sugar
450ml whipping cream
A few sprigs of basil, from a living pot of basil
What you do:
Blitz 3/4 of the strawberries in a food processor strain the puree.
Combine the puree with orange juice and sugar. Leave to stand for 2 hours for sugar to dissolve.
Whip the cream until it holds soft peaks. Stir in the sweetened puree and whisk lightly. Chop remaining strawberries and add to mixture
Churn in ice cream machine until soft form ice cream or freeze for 2 -3 hours stirring twice during this time
Serve immediately or store in freezer until required.
To serve: Serve strawberry ice cream and strawberries, with fresh basil sprinkled over the top.
Cook's tip:
Jill Brand says 'Basil is one of my favourite herbs. Apart from its wonderful aroma, it has such fantastic versatility, going with so many foods - from strawberries to tomatoes. Fresh basil is so flavoursome it can be added to almost anything to transform a quick and easy week night dinner into a delicious, restaurant-worthy meal.'
This page can be found at: http://secretsauce.co.uk/cakes-desserts/ice-cream-recipes/jill-brands-strawberry-ice-cream/
A short link can also be used: http://bit.ly/QrafLK
The Fresh Herb Company

The Fresh Herb Company, also known as VHB Herbs, is the largest producer and supplier of fresh herbs to the UK retail market. The Fresh Herb Company is running a campaign called 5 Ways with Fresh Living Herbs. This campaign aims to inspire people to keep pots of fresh living herbs in the kitchen so they can add healthy flavour to dishes quickly and easily.
More from The Fresh Herb Company

One of the most tempting dishes on a restaurant starter dish, so why haven't you ever tried making it at home?!

Atul is the only Indian chef to have two Michelin stars in the UK and is the head chef at the world renowned Benares restaurant, in London.

Chives are so compatible with seafood, particularly prawns. Try this delicious pasta dish and don't scrimp on the delicious fresh herbs!
Popular in ice cream recipes

Making delicious homemade ice-cream doesn't have to be difficult thanks to this easy strawberry ice-cream

Both adults and kids will love this delicious Cranberry Ice Cream!

Want a quick, fruity and refreshing dessert idea that's so simple the kids can do it? This ripple ice cream takes minutes to prepare and is a great sweet treat to enjoy in the afternoon or after dinner.