Chocolate ice cream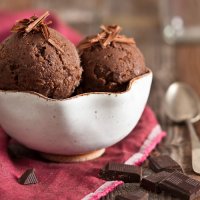 A rich chocolate ice cream that can be made even if you don't have an ice cream maker!
What you need:
500ml Kallo Chocolate Soya Milk
1 tbsp cornflour
50g caster sugar, or fruit sugar
4 large egg yolks
200g dairy-free, dark chocolate chips or dairy-free, dark chocolate finely chopped
What you do:
Don't worry if you don't have an ice cream maker - you can also make this using an electric whisk - and whisking the mixture as it freezes. Simple!
Pour the soya milk into a saucepan and heat over a low heat until just starting to boil. Mix together the cornflour and 1 tablespoon water in a small bowl and stir until smooth. Add it to the soya milk and, using an electric whisk, whisk for 2-3 minutes until the soya milk has thickened a little. Remove from the heat and leave to cool.
Put the sugar into another saucepan and add 3 tablespoons water. Bring to the boil over a medium heat, stirring occasionally, and boil for 3-4 minutes until it becomes a light syrup.
Using an electric whisk, whisk the egg yolks until light-coloured. Pour in the sugar syrup slowly, whisking as you pour. Pour in the soya milk and whisk thoroughly. Leave to cool completely.
Using a large spoon, fold the chocolate chips into the mixture. Transfer the mixture to an ice cream maker and process according the manufacturer's instructions.
Alternatively, transfer the mixture to a large freezerproof container, cover with a lid and freeze for 3 hours. Whisk the mixture well, using an electric mixer, then return it to the freezer. Freeze for another 3 hours, then whisk again and freeze for another 3 hours and whisk again. Freeze again for 2-3 hours until completely frozen, or overnight.
Remove the ice cream from the freezer and leave to soften slightly for 10-15 minutes at room temperature, then serve.
This page can be found at: http://secretsauce.co.uk/cakes-desserts/ice-cream-recipes/chocolate-ice-cream/
A short link can also be used: http://bit.ly/vGDO2F
Kallo

Kallo has been creating delicious, simple recipes from the finest natural ingredients and making food and drink with the utmost thought for people's wellbeing and enjoyment for more than 20 years. In fact our whole philosophy is 'Kallo. Thought for food' because we believe the more you think about food, the more you enjoy it.
More from Kallo

A delicious and healthy fish pie - perfect for any winter evening

What could be more delicious than cream cheese and Parma ham, topped with some sweet, juicy figs?

A delicious, quick and easy sweet snack, ideal for working mums always on the move
Popular in ice cream recipes

Making delicious homemade ice-cream doesn't have to be difficult thanks to this easy strawberry ice-cream

Both adults and kids will love this delicious Cranberry Ice Cream!

Want a quick, fruity and refreshing dessert idea that's so simple the kids can do it? This ripple ice cream takes minutes to prepare and is a great sweet treat to enjoy in the afternoon or after dinner.