Dairy-free fish pie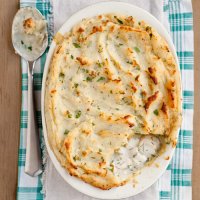 A delicious and healthy fish pie made with Kallo Organic Soya Drink - perfect for any winter evening
Preparation: 20 mins
Cooking: 70 mins
Serves: 4
What you need:
400g firm white skinless fish fillets, cut into large chunks
200g firm white skinless smoked fish fillets, cut into large chunks
750ml Kallo Unsweetened Soya Milk, plus 6 tablespoons for the mashed potato
200ml dairy-free fish or vegetable stock
1/2 onion, halved
2 bay leaves
6 peppercorns
a pinch of freshly grated nutmeg
1kg potatoes, peeled and cut into large chunks
100g dairy-free margarine, plus extra for greasing
2 handfuls chopped flat-leaf parsley leaves
40g rice flour
40g maize flour
2 heaped tbsp finely chopped dill
sea salt and freshly ground black pepper
What you do:
Put the fish a large, heavy-based saucepan and pour in 500ml of the soya milk and the fish stock. Add the onion, bay leaves, peppercorns and nutmeg. Bring to the boil over a medium heat, then turn the heat down to low, cover with a lid and leave to simmer for 3-4 minutes, until the fish is opaque. Remove from the heat, remove the fish with a slotted spoon, leaving the onion and aromatics in the pan and leave to one side. Leave the liquid to infuse for at least 20 minutes.
Meanwhile, put the potatoes in a large saucepan and cover with cold water. Bring to the boil over a high heat, then turn the heat down, cover with a lid and leave to simmer for 20-25 minutes until tender. Drain, stir in 6 tablespoons of soya milk, half of the margarine and season lightly with salt and pepper. Mash until well blended and smooth, then stir in 1 tablespoon of the parsley leaves and leave to one side.
Meanwhile, strain the infused liquid and discard the onion and aromatics. Melt the remaining dairy-free margarine in a heavy-based saucepan over a low heat. Stir in the rice and gram flours and remove the pan from the heat. Gradually stir in the infused liquid, stirring all the time. Return the pan to the heat and bring to the boil over a medium heat, stirring continuously as it thickens. If it goes lumpy, beat with a whisk until it is smooth again.
Once the sauce has boiled, turn the heat down to low and let it simmer very gently for 10 minutes. Stir frequently to prevent it sticking to the pan. Stir in the rest of the soya milk to make a smooth sauce that is thick, but still runny. Stir in the dill and the remaining parsley and season lightly with salt and pepper.
Preheat the oven to 200°C/Gas 6. Lightly grease a 2-litre oven-proof dish with dairy-free margarine. Put the fish over the bottom of the dish and cover with the sauce. Spoon the mashed potato over, spreading it evenly. Bake in the hot oven for 35-40 minutes until the top is golden. Serve hot.
Cook's tip:
'I've used chunks of fish in this recipe to make it easier. But you can always use whole fillets - just cook the fish for a few minutes longer, then flake it with a fork into pieces'
This page can be found at: http://secretsauce.co.uk/fish-seafood/pie-recipes/dairy-free-fish-pie/
A short link can also be used: http://bit.ly/sKcwCh
Skandi Candle
Pure soy wax candles in Flack Fig & Vetiver or Lemon fragrances - perfect for any dinner party or romantic night in.
Kallo

Kallo has been creating delicious, simple recipes from the finest natural ingredients and making food and drink with the utmost thought for people's wellbeing and enjoyment for more than 20 years. In fact our whole philosophy is 'Kallo. Thought for food' because we believe the more you think about food, the more you enjoy it.
More from Kallo

What could be more delicious than cream cheese and Parma ham, topped with some sweet, juicy figs?

A delicious, quick and easy sweet snack, ideal for working mums always on the move

Coronation chicken: Quite the classic. And it works just as splendidly on a rice cake as it does in your sandwich, especially with some rocket and a sprinkle of black pepper.