Cream cheese, Parma ham & figs on unsalted rice cakes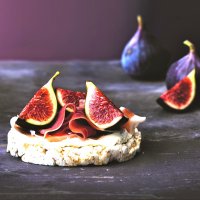 What could be more delicious than cream cheese and Parma ham, topped with some sweet, juicy figs? This little delight is easy to prepare at work and goes down perfectly as an afternoon snack at your desk.
What you need:
100g cream cheese
8 slices Parma ham
2 large figs
4 Kallo Unsalted rice cakes
What you do:
Spread a thick layer of cream cheese onto your rice cake, before folding on two slices of Parma ham.
Cut the figs into quarters and place two or three segments on top. Finish off with a drizzle of balsamic.
Delightful with Kallo Organic Unsalted rice cakes
This page can be found at: http://secretsauce.co.uk/meat-poultry/cheese-recipes/cream-cheese-parma-ham-and-figs-on-rice-cakes/
A short link can also be used: http://bit.ly/172TxEg
Skandi Candle
Pure soy wax candles in Flack Fig & Vetiver or Lemon fragrances - perfect for any dinner party or romantic night in.
Kallo

Kallo has been creating delicious, simple recipes from the finest natural ingredients and making food and drink with the utmost thought for people's wellbeing and enjoyment for more than 20 years. In fact our whole philosophy is 'Kallo. Thought for food' because we believe the more you think about food, the more you enjoy it.
More from Kallo

A delicious and healthy fish pie - perfect for any winter evening

A delicious, quick and easy sweet snack, ideal for working mums always on the move

Coronation chicken: Quite the classic. And it works just as splendidly on a rice cake as it does in your sandwich, especially with some rocket and a sprinkle of black pepper.