Hearty chilli con carne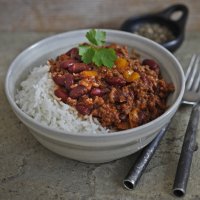 This hearty dish will help you add a touch of spice to your midweek meal repertoire!
Preparation: 10 mins
Cooking: 90 mins
Serves: 4
What you need:
1 large shallot, finely chopped
2 garlic cloves, crushed
1 yellow pepper, deseeded and chopped into small pieces
1 tsp hot chilli powder
1 tsp smoked paprika
1 tsp ground cumin
1 tbsp light olive oil
500g premium lean minced beef
1 beef stock cube, dissolved in 330ml of boiling water
350g jar Seeds of Change Tomato & Chilli Sauce
½ tsp fresh marjoram
1 tsp sugar
1 tbsp tomato purée
1 can red kidney beans, drained
What you do:
Heat the oil in a large saucepan over a medium heat. Add the shallot and cook until without colour and soft. Stir in the garlic, pepper, chilli, paprika and cumin. Cook gently for 5-10 minutes to release the spicy flavours
Heat a separate frying pan and brown the mince for a minute or two, then break up the meat with a wooden spoon. Keep the heat high so that the meat browns, rather than stews. Add the meat to the vegetables
Pour in the stock and the Seeds of Change Tomato & Chilli Sauce. Add the marjoram, sugar and tomato purée. Stir well
Bring to the boil, give it a good stir and put the lid on. Turn down the heat until gently bubbling and simmer for 1 hour. Make sure the sauce doesn't catch on the bottom of the pan or isn't drying out. If it is, add a couple of tablespoons of water and make sure that the heat really is low enough. After simmering gently, the saucy mince mixture should look thick, moist and juicy
Stir the beans into the chilli. Bring to the boil again and gently bubble without the lid for another 10 minutes, adding a little more water if it looks too dry. Taste a bit of the chilli and check the seasoning. Serve with crème fraiche and plain boiled basmati rice
This page can be found at: http://secretsauce.co.uk/meat-poultry/chilli-recipes/hearty-chilli-con-carne-pie/
A short link can also be used: http://bit.ly/eeUnL2
Seeds of Change

Seeds of Change's aim is to provide a range of good, honest food, full of taste and flavour that is also good for you. The range of delicious sauces, soups, pasta and cereal bars is organic and free of artificial additives and preservatives.
More from Seeds of Change

Creamy, delicious and filling - an easy and satisfying meal for the family

This is a great one-pot dish. Look out for good quality meat in your supermarket

This delicious rhubarb crumble recipe was created by gardener and celebrity Kim Wilde
Popular in chilli recipes

A beautifully colourful chilli con carne with a dollop of soured cream

This scrumptious chilli con carne contains a little dark chocolate to make it rich and deep and flavour, but don't worry, you won't be able to taste it as such

Make a tasty treat for Bonfire Night (and beyond!) with this easy solution for a fun family supper.