Spiced plum puds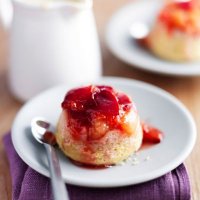 These sponge puddings, created by Kirstie Allsopp, are the epitome of comfort food - serve with lashings of hot custard or pour over some evaporated milk for extra indulgence. They're so easy and also only take 25 minutes to steam rather than a few hours with this quick oven method.
Preparation: 15 mins
Cooking: 25 mins
Serves: 4
What you need:
3 ripe plums
2tbsp sugar
85g (3oz) butter
85g (3oz) Carnation Condensed Milk
1 egg
100g (3 1/2oz) self raising flour
1/2 tsp baking powder
1/2 tsp ginger
Freshly grated nutmeg
1tsp vanilla extract
What you do:
Preheat the oven to 180°C, (160°C for fan ovens), Gas Mark 4.
Halve the plums and remove the stones, then chop into quarters. Tip into a pan with 3tbsp water and 2tbsp sugar. Cover and simmer for about 10 minutes until soft.
Beat the remaining ingredients in bowl until smooth.
Butter 4 x 150ml (1/2pt) metal pudding basins (or ramekins or small robust coffee cups) and place into a roasting tin.
Spoon the plums into the pudding basins. Top with the sponge and level the tops.
Pour hot water into the roasting tin until about halfway up the sides of the puddings. Cover the whole tin with foil, carefully transfer to the oven (taking care to keep the tin level) and bake for 20-25 minutes until risen and turning golden at the edges.
Turn the puddings out and serve with freshly made custard.
Cook's tip:
Add any spices you like to the pudding - you could just add a good pinch or two of mixed spice or just the cinnamon. Try this recipe with cooked apples or pears when in season.
This page can be found at: http://secretsauce.co.uk/cakes-desserts/christmas-recipes/spiced-plum-puds/
A short link can also be used: http://bit.ly/vsGWQf
Nestlé Carnation

Do you long to make beautiful, delicious puddings to impress your friends and family but lack the time and confidence? Well, help is at hand! The
Carnation
range of products is the short and deliciously sweet route to dessert heaven…
More from Nestlé Carnation

This quick-setting light textured cheesecake is the perfect answer to an alternative to the richness of Christmas pudding...

Creamy and delicious, these rum and raisin brulees are the creme de la creme of desserts - perfect as an alternative for Christmas pudding!

These mini desserts are perfect to serve up for a dinner party - what could be better than individual version of banoffee pies?
Popular in christmas recipes

This simple Christmas cake recipe makes a moist, delicious cake with a wonderful mixture of rich and fragrant tea-soaked fruits

The longer you soak the fruit for these Christmas cakes, the better the flavour will be. Then make the cake a few days before for a moisty gorgeous spongy texture. Heavenly!

This is a great way to finish off Christmas cake or as an alternative to Christmas pudding.