Christmas carrot pudding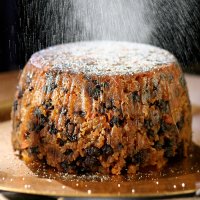 This is a really good and light Lincolnshire alternative to a traditional Christmas pudding, particularly if you're not one of those efficient cooks who has made their steamed puddings months in advance. And if you've forgotten all about the pudding, because you were so busy getting to grips with the turkey, this is absolutely ideal for saving the day!
Preparation: 15 mins
Cooking: 180 mins
What you need:
100g plain flour
1/2 tsp bicarbonate of soda
1 tsp of mixed spice
100g suet
100g raisins
100g currants
100g potato, grated
100g carrots, grated
100g Demerara sugar
100g fine breadcrumbs
25g chopped glace cherries
1 large egg, beaten
What you do:
Mix the flour, soda, spice well together. Add all the other ingredients except the egg, mix all ingredients well together and thoroughly. Then add the egg and bind well, if it is a little too stiff, add a little milk as well. Pour into a large greased pudding basin, leaving space at the top as the mixture will expand during cooking.
Cover with a double layer of greaseproof paper and tie with string. Steam for 3hrs. Serves with loads of custard, brandy sauce or double cream.
Cook's tip:
If there's one ingredient you shouldn't be without this festive season, it's the humble carrot. Loved and adored by children, adults and Rudolph the red nosed reindeer alike, this tasty vegetable won't go to waste or break the bank.
This page can be found at: http://secretsauce.co.uk/cakes-desserts/christmas-recipes/christmas-carrot-pudding/
A short link can also be used: http://bit.ly/faZzan
British Carrots

For carrot history, fun facts, recipes and information on buying, storing and preparing carrots, visit British Carrots.
More from British Carrots

Casserole's a classic winter warmer and this one with apple gravy is just delicious and really straightforward to make. Go on, tuck in!

If you're after a healthy, warming soup, then this one's definitely worth making. Get some fresh crusty bread to serve with it and lunch is sorted!

If you've got loads of turkey leftovers, here's a great recipe that will not only use them up, it'll provide you with another delicious meal!
Popular in christmas recipes

This simple Christmas cake recipe makes a moist, delicious cake with a wonderful mixture of rich and fragrant tea-soaked fruits

The longer you soak the fruit for these Christmas cakes, the better the flavour will be. Then make the cake a few days before for a moisty gorgeous spongy texture. Heavenly!

This is a great way to finish off Christmas cake or as an alternative to Christmas pudding.