Last-minute Christmas cake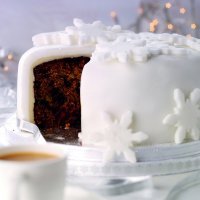 This simple Christmas cake recipe makes a moist, delicious cake with a wonderful mixture of rich and fragrant tea-soaked fruits. It's guaranteed to be such a hit with guests that you'll wish you made two!
What you need:
For the cake:
500g mixed dried fruit e.g. sultanas, raisins, currants
100g ready to eat apricots, chopped
100g dates, chopped
50g dried cranberries
150g glace cherries, halved
225ml cold black tea, made from two Teadirect Gold teabags
100ml whisky or brandy
75ml orange juice
1 orange, zest only
2 tbsp black treacle
200g butter, slightly soft
200g muscovado sugar
250g plain flour
1 heaped tsp baking powder
5 eggs, lightly beaten
1 1/2 tsp mixed spice
75g chopped nuts
To cover the cake:
450g marzipan
Sifted icing sugar
4 tbsp apricot jam
1 kg ready rolled fondant icing
What you do:
In a large pan mix together the dried fruits, apricots, dates, cranberries and cherries. Add the cooled Teadirect Gold tea, whisky or brandy, orange juice, zest and treacle. Bring to the boil, stirring. Simmer gently for 10 minutes. Remove from the heat and leave to cool. Transfer to a bowl and chill overnight or as long as you can.
Preheat the oven to 140 degrees C/275 degrees F/Gas Mark 2.
Lightly grease a 20cm round cake tin and line with baking parchment.
Place all the remaining cake ingredients, except the nuts, into a large mixing bowl. Mix thoroughly, and then fold in the tea-soaked fruit and nuts.
Spoon the mixture into the prepared tin and level the top, making a slight dip towards the centre. Wrap the sides of the cake in a double thickness of brown paper. Check the cake after 3 hours, and cover with parchment paper if the surface is getting too brown. Bake for a further 30 minutes-1 hour, or until a metal skewer inserted into the centre comes out clean.
Cool in the tin for 15 minutes then turn out and allow to cool completely on a rack.
When ready to decorate the cake, dust a large work surface with icing sugar and roll the marzipan to a circle slightly larger than the cake. Heat the apricot jam in a small pan and brush over the cake. Ease the marzipan over the cake - rubbing with your hands to create a flat smooth surface. If time allows, cover the cake with a clean tea towel and then leave in a cool place for at least one day.
Roll out 150g of the fondant icing on a flat surface, lightly dusted with icing sugar and use your favourite Christmas cookie cutters to cut out some festive shapes e.g. snowflakes, stars or holly leaves etc. Transfer them to a baking sheet lined with parchment and leave to set, uncovered, in a cool place.
Place the cake on a cake board. Brush the marzipan covered cake with a little water. Roll out the remaining icing to a 33cm round. Lift over the cake and smooth the icing down the sides. Trim off the excess icing around the cake's base. Dust your palms with icing sugar, and gently 'polish' the surface of the icing to smooth out any creases and uneven areas.
Use the Christmassy shapes you prepared earlier to decorate the cake and finish off with a ribbon.
This page can be found at: http://secretsauce.co.uk/cakes-desserts/christmas-recipes/last-minute-christmas-cake/
A short link can also be used: http://bit.ly/i2jZxX
Cafédirect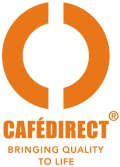 Cafédirect's range of Teadirect teas is available from most major supermarkets. Visit the site for further information about Cafédirect's award-winning products, information about Cafédirect's grower partners, its pioneering Fairtrade work, and groundbreaking Climate Change project.
More from Cafédirect

Celebrity drinks expert Olly Smith's quick and easy choccie biscuit recipe makes a delicious, inexpensive homemade gift for friends, relatives and loved ones
Popular in christmas recipes

The longer you soak the fruit for these Christmas cakes, the better the flavour will be. Then make the cake a few days before for a moisty gorgeous spongy texture. Heavenly!

This is a great way to finish off Christmas cake or as an alternative to Christmas pudding.

Nothing says you care like a homemade present - and these Florentines are perfect