Christmas Florentines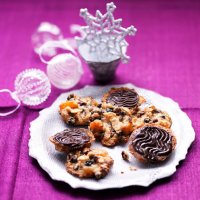 Nothing says how much you care than a homemade present - and these Florentines are so quick and easy. Make them look really professional with a Cellophane bag and some ribbon.
Preparation: 10 mins
Cooking: 15 mins
Serves: 12
What you need:
25g (1oz) butter
25g (1oz) light brown soft sugar
100g (3 1/2oz) Carnation Condensed Milk
2tsp plain flour
150g (5 1/2oz) mixed dried fruit and nuts such as apricots, cranberries, blueberries, cherries, toasted flaked almonds, desiccated coconut etc.
85g (3oz) dark chocolate
What you do:
Preheat the oven to 180C, (160C for fan ovens) or Gas Mark 4.
Melt the butter and sugar in a non-stick saucepan stirring until combined.
Add the condensed milk and heat until just bubbling.
Stir in the plain flour and mix until smooth.
Stir in the dried fruit and nuts.
Place spoonfuls of the mixture onto parchment lined baking sheets and bake for about 12 minutes until turning golden brown at the edges.
Leave to cool on the tray.
When cool, melt the chocolate and spread a small amount on the flat side of the florentine then drag a fork through the chocolate to make wavy lines.
This page can be found at: http://secretsauce.co.uk/cakes-desserts/christmas-recipes/christmas-florentines/
A short link can also be used: http://bit.ly/vHw7JR
Nestlé Carnation

Do you long to make beautiful, delicious puddings to impress your friends and family but lack the time and confidence? Well, help is at hand! The
Carnation
range of products is the short and deliciously sweet route to dessert heaven…
More from Nestlé Carnation

This quick-setting light textured cheesecake is the perfect answer to an alternative to the richness of Christmas pudding...

Creamy and delicious, these rum and raisin brulees are the creme de la creme of desserts - perfect as an alternative for Christmas pudding!

These mini desserts are perfect to serve up for a dinner party - what could be better than individual version of banoffee pies?
Popular in christmas recipes

This simple Christmas cake recipe makes a moist, delicious cake with a wonderful mixture of rich and fragrant tea-soaked fruits

The longer you soak the fruit for these Christmas cakes, the better the flavour will be. Then make the cake a few days before for a moisty gorgeous spongy texture. Heavenly!

This is a great way to finish off Christmas cake or as an alternative to Christmas pudding.