Spiced chocolate-dipped shortbread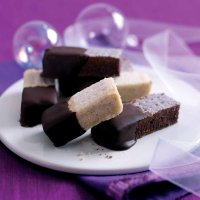 A favourite Christmas treat that's delicious with or without the chocolate dip
Makes: 24 fingers
Preparation time: 20 minutes
Cooking time: 15-17 minutes
What you need:
2 x 125g (5oz) butter
2 x 55g (2oz) Tate & Lyle Fairtrade Icing Sugar
2 x 1tsp mixed spice or cinnamon
160g (5½oz) plain flour
15g (1oz) Fairtrade cocoa powder
175g (6oz) plain flour
Tate and Lyle Fairtrade Caster Sugar, for dusting
115g (4oz) Fairtrade dark chocolate
What you do:
Preheat the oven to 180ºC, 350ºF, Gas Mark 4.
Line an 18cm x 28cm (8"x 11") tin with baking parchment.
Place one quantity of butter and sugar into a large bowl and cream together with 1tsp spice. Sift in 160g (5½oz) plain flour and the cocoa. Work the flour mixture into the butter and sugar with your fingers to form a soft dough. Repeat this method with the remaining set of butter, sugar, spice and175g (6oz) plain flour. Roll out each dough on a floured surface to fill one half of each end of the prepared tin. Score the shortbread into fingers with a knife.

Bake for 15-17 minutes or until the plain side is pale golden. Leave to cool slightly, then cut through where the shortbread has been scored and gently transfer to a wire rack to cool completely. Dust with caster sugar.
Melt the chocolate and dip each finger into the chocolate on one end to coat.
This page can be found at: http://secretsauce.co.uk/cakes-desserts/christmas-recipes/spiced--chocolate-dipped-shortbread/
A short link can also be used: http://bit.ly/hjvcN7
Tate & Lyle

Tate & Lyle's Fairtrade Caster Sugar, Icing Sugar and Royal Icing Sugar are all sourced from Belize, the sugar company's first Fairtrade accredited grower-partner, from whom it has purchased sugar for over 35 years.
More from Tate & Lyle

This is a great way to finish off Christmas cake or as an alternative to Christmas pudding.

Rich dark chocolate combines beautifully with the creamy ripe avocados and toasted walnuts to create a truly melt-in-the mouth, unique and luxurious taste.

Why have plain old chocolate cup cakes when you could treat friends and family to scrummy Fairtrade honey and lavender versions created by Lily Vanilli?
Popular in christmas recipes

This simple Christmas cake recipe makes a moist, delicious cake with a wonderful mixture of rich and fragrant tea-soaked fruits

The longer you soak the fruit for these Christmas cakes, the better the flavour will be. Then make the cake a few days before for a moisty gorgeous spongy texture. Heavenly!

This is a great way to finish off Christmas cake or as an alternative to Christmas pudding.