Honey & lavender cup cakes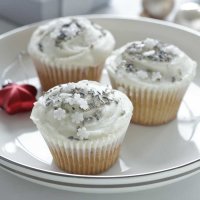 Why have plain old chocolate cup cakes when you could treat friends and family to scrummy Fairtrade honey and lavender versions created by Lily Vanilli?
Preparation: 10 mins
Cooking: 20 mins
Serves: 13
What you need:
Vanilla cupcakes:
280 g plain flour, sifted
1 tsp baking powder
Pinch salt
113g unsalted butter, softened
205g Tate & Lyle fair-trade caster sugar
2 large eggs, at room temperature
4 floz whole milk
1/2 teaspoon good vanilla extract
Lily Vanilli lavender honey icing:
50g soft butter
450g Tate & Lyle Fairtrade icing sugar (approx – depending on the consistency you want to achieve)
3fl oz lavender milk (see below)
1fl oz double cream
1 tsp honey
Flaked almonds and lavender and edible silver glitter to decorate
What you do:
Preheat oven to 180ºc.
Sift together flour, salt and baking powder in a small bowl.
In a large mixing bowl, beat the butter with an electric mixer until smooth. Add caster sugar and beat for 5 minutes until very light and fluffy.
Add the eggs, one at a time, beating to combine after each addition. Add the flour mixture in three parts, alternating with the milk and vanilla, beginning and ending with the flour. Be careful not to over mix.
Using an ice cream scoop, spoon the batter into cupcake liners - about 3/4 full.
Bake for 20 mins or until a toothpick inserted into the centre comes out clean.
Cool the cupcakes in the pan for a few minutes then transfer to a wire rack and allow to cool completely.
Toast flaked almonds on a baking sheet in a hot oven for approx 5 mins – until lightly browned - and allow to cool.
Whisk butter in a metal bowl until smooth, then add 300g icing sugar, milk, honey & double cream. Blend until smooth and slowly add remaining icing sugar until you have the consistency you want.
Ice cupcakes and dust with a sprinkling of lavender buds, cooled toasted almonds and silver glitter.
For the lavender milk: Measure out around 1.5 times the milk your recipe requires (to allow for evaporation) and add lavender buds at a ratio of 2tbsp buds to 1 cup milk to a small pan. Heat ingredients to a scald stage (just before boiling), then turn off heat and leave to cool completely. Strain the flowers with a sieve and re-measure milk before adding to your recipe.
Handy cook's tip:
Edible glitter is available from cake shops and online baking retailers
This page can be found at: http://secretsauce.co.uk/cakes-desserts/cup-cake-recipes/honey-and-lavender-cup-cakes/
A short link can also be used: http://bit.ly/g1ej1U
Tate & Lyle

Tate & Lyle's Fairtrade Caster Sugar, Icing Sugar and Royal Icing Sugar are all sourced from Belize, the sugar company's first Fairtrade accredited grower-partner, from whom it has purchased sugar for over 35 years.
More from Tate & Lyle

This is a great way to finish off Christmas cake or as an alternative to Christmas pudding.

Rich dark chocolate combines beautifully with the creamy ripe avocados and toasted walnuts to create a truly melt-in-the mouth, unique and luxurious taste.

These jewelled treats make lovely gifts for those with a sweet tooth. Use your favourite Fairtrade fruits and nuts - we love cranberries, almonds and apricots - perfect for Christmas
Popular in cup cake recipes

Delicious cupcakes decorated with vanilla buttercream and beautiful decorations

Feed the nation's love for cupcakes with a freshly baked batch of lemon and honey cupcakes

A gorgeous cupcake perfect for summer - light and fruity!