Dark chocolate & avocado cupcakes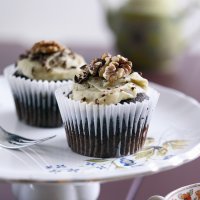 Rich dark chocolate combines beautifully with the creamy ripe avocados and toasted walnuts to create a truly melt-in-the mouth, unique and luxurious taste. Avocado replaces butter in this cupcake's frosting, making it a slightly healthier option. Lily Vanilli, renowned for her cupcake sculptures, has baked this deliciously unique cupcake using Divine Chocolate and Tate & Lyle fair-trade sugar. Here's how to recreate your very own couture cupcake creation with Divine Chocolate and Tate & Lyle fair-trade sugar.
What you need:
For the cake mixture
2 x 100g Divine dark chocolate
200g unsalted butter, very soft
200g Tate & Lyle Fairtrade caster sugar
4 large free range eggs, at room temperature
100ml sour cream
200g self-raising flour
For the topping:
2 cups very ripe avocado flesh (use the ripest you can find before the flesh has turned brown - cut out any brown bits)
1½ cups Tate & Lyle Fairtrade Icing Sugar
1½ tsp lemon juice
12-hole muffin tray lined with paper muffin cases
What you do:
Heat the oven to 180C/350F/Gas 4
Break up the chocolate bars and melt gently. Remove the bowl from the heat and leave to cool. Put the butter and sugar into a food mixer and beat until light and creamy. Beat in the eggs one at a time, beating well after each addition
Stir in the sour cream on low speed, followed by the flour and finally the melted chocolate, mixing gently until thoroughly combined. Spoon the mixture into the muffin cases and bake for 25mins until firm to the touch. Remove the muffins from the tin and leave to cool on a wire rack
Meanwhile make the topping: Using a hand mixer, blend the avocado with the lemon juice until you achieve a smooth consistency, working out any lumps. Slowly blend in the sugar, increasing the speed of the mixer as you go (feel free to add more or less sugar to achieve a consistency & taste you like)
Spread over the cooled cakes. Using a zester, create some dark chocolate shavings and sprinkle some onto the frosting and top with a cooled toasted walnut.
This page can be found at: http://secretsauce.co.uk/cakes-desserts/cup-cake-recipes/dark-chocolate-and-avocado-cupcakes/
A short link can also be used: http://bit.ly/gczZS3
Tate & Lyle

Tate & Lyle's Fairtrade Caster Sugar, Icing Sugar and Royal Icing Sugar are all sourced from Belize, the sugar company's first Fairtrade accredited grower-partner, from whom it has purchased sugar for over 35 years.
More from Tate & Lyle

This is a great way to finish off Christmas cake or as an alternative to Christmas pudding.

Why have plain old chocolate cup cakes when you could treat friends and family to scrummy Fairtrade honey and lavender versions created by Lily Vanilli?

These jewelled treats make lovely gifts for those with a sweet tooth. Use your favourite Fairtrade fruits and nuts - we love cranberries, almonds and apricots - perfect for Christmas
Popular in cup cake recipes

Delicious cupcakes decorated with vanilla buttercream and beautiful decorations

Feed the nation's love for cupcakes with a freshly baked batch of lemon and honey cupcakes

A gorgeous cupcake perfect for summer - light and fruity!