Snowy clementine cakes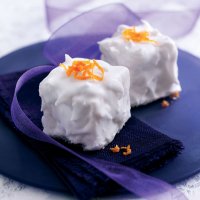 These little cakes are the ideal alternative for those who aren't partial to traditional Christmas fruit cake. A light and moist zesty sponge topped with a thin layer of marzipan and a generous amount of softly set royal icing (which is always the best bit!).
Preparation time: 55 minutes
Cooking time: 45-55 minutes
Makes: 20
What you need:
For the cake:
225g (8oz) butter, softened
225g (8oz) Tate & Lyle Fairtrade Caster Sugar
225g (8oz) self-raising flour
4 eggs
55g (2oz) ground almonds
For the syrup:
4 clementines
2tbsp Tate & Lyle Fairtrade Icing Sugar
For the decoration:
450g (1lb) ready made marzipan
500g pack Tate & Lyle Fairtrade Royal Icing Sugar
Extra clementine zest, to decorate (optional)
What you do:
Preheat the oven to 180ºC, 350ºF, Gas Mark 4. Base line an 18cm (7in) square tin.
Place the butter, sugar, flour, eggs and ground almonds into a bowl. Zest three clementines and add to the bowl with the juice of only one clementine, reserve the remaining fruit for juicing later. Beat the cake ingredients together thoroughly with an electric hand whisk until light and fluffy.
Pour the cake mix into the tin and bake for 45-55 minutes until springy to the touch and cooked through. Leave to cool slightly then prick the cake all over with a skewer or cocktail stick. Juice the remaining fruit and add the 2tbsp icing sugar to make a syrup. Heat the syrup gently in a small pan or in the microwave. Pour over the cake. Leave to cool completely before cutting into 20 squares.
To decorate, roll out the marzipan until quite thin (about the thickness of a 50 pence piece), and use to cover each cake. Make the icing according to the pack instructions and ice each cake all over. Spike the icing with a knife for a snowy effect. Leave to set before topping each with a little zest.
This page can be found at: http://secretsauce.co.uk/cakes-desserts/christmas-recipes/snowy-clementine-cakes/
A short link can also be used: http://bit.ly/hYhsqa
Tate & Lyle

Tate & Lyle's Fairtrade Caster Sugar, Icing Sugar and Royal Icing Sugar are all sourced from Belize, the sugar company's first Fairtrade accredited grower-partner, from whom it has purchased sugar for over 35 years.
More from Tate & Lyle

This is a great way to finish off Christmas cake or as an alternative to Christmas pudding.

Rich dark chocolate combines beautifully with the creamy ripe avocados and toasted walnuts to create a truly melt-in-the mouth, unique and luxurious taste.

Why have plain old chocolate cup cakes when you could treat friends and family to scrummy Fairtrade honey and lavender versions created by Lily Vanilli?
Popular in christmas recipes

This simple Christmas cake recipe makes a moist, delicious cake with a wonderful mixture of rich and fragrant tea-soaked fruits

The longer you soak the fruit for these Christmas cakes, the better the flavour will be. Then make the cake a few days before for a moisty gorgeous spongy texture. Heavenly!

This is a great way to finish off Christmas cake or as an alternative to Christmas pudding.